Bishop Museum's Hawaiian Hall reopening in grand style this weekend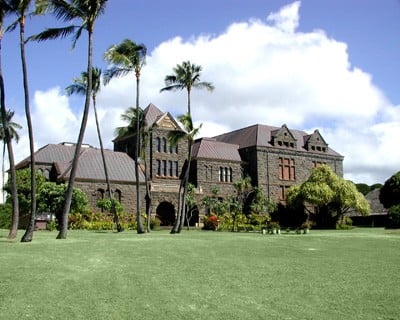 Welcome back, Hawaiian Hall!
The Bishop Museum's 120-year-old exhibit space is getting a grand reintroduction to the public this weekend, celebrating the completion of three years and $16 million worth of renovations.
Renovations, which began in 2006, marked Hawaiian Hall's first major overhaul in more than a century. Built in 1889, Hawaiian Hall is the Bishop Museum complex's first and oldest building. A bustling metropolis has grown around its Kalihi acreage over the last century, but Hawaiian Hall's classic three-story Victorian-era stone façade remains a prominent Honolulu landmark.
Hawaiian Hall also remains one of Bishop Museum's most popular exhibitions spaces, displaying a substantial portion of the museum's 1.3 million-item-collection of Hawaiian cultural artifacts. The hall's newly renovated interiors represent the state of the art in museum design, but two major elements of the renovation involved the installation of modern conveniences usually taken for granted.
Subdued LED lamps now replace the natural light that, while unique to the building's aesthetic, was not ideal for long-term artifact conservation. And a modern air-conditioning system, replacing Hawaiian Hall's natural ventilation, was fitted into building's century-old framework for preservation purposes and visitor comfort.
We'll detail more of Hawaiian Hall's new features and take you on a tour of the building here on HawaiiMagazine.com in an upcoming post. But if you're on Oahu on Sat., Aug. 8, or Sunday, Aug. 9, stop by Hawaiian Hall's grand reopening.
Weekend festivities kick off with a reopening ceremony, Saturday at 7 a.m,, featuring a procession of museum staff, royal societies, alii trusts, Hawaiian civic clubs, hula halau and community members at the Bishop Museum gates. Performances from hula halau will precede the customary untying of maile lei that officially reopens the building.
Hawaiian Hall will then be open from 9 a.m to 5 p.m. on both days. From 11 a.m. to 3 p.m., a series of lectures in the hall will gather Hawaiian scholars and artists to discuss various topics including native Hawaiian art and artists, and history of Bishop Museum and Hawaiian Hall.
Also on both days, the Bishop Museum's Great Lawn will host an arts market and entertainment stage, the latter featuring performances by a who's who of contemporary and traditional Hawaiian musicians.
Click here for a complete schedule of the weekend's Hawaiian Hall reopening festivities, more information and admission prices.
Watch the below for a look at the scope of Hawaiian Hall's makeover.