Blazing blades! 2013 World Fireknife Championship slated for this week on Oahu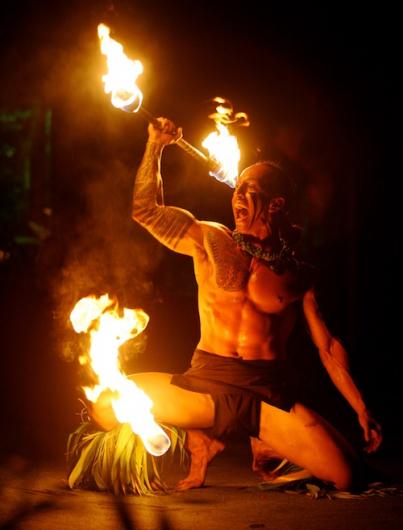 Amazing displays of flame-fueled, sharp-edged Samoan dancing will be staged this week throughout the 21st annual World Fireknife Championship at the Polynesian Cultural Center.
Acrobatic and seemingly flame-and-blade-resistant competitors will vie for the title of World Fireknife Champion in four-night competition that will get under way with preliminary performances starting at 7:45 p.m. tomorrow (May 8), at Hale Aloha on the Polynesian Cultural Center's grounds in the Laie area — Oahu's northeastern area or North Shore region.
Fireknife fans unable to attend the event may check out the competitions by way of live online broadcast. For more information, click here.
Semi-finals as well as open-group and junior competitions are set for 7:45 p.m. on Thursday, also at the PCC. On Friday and Saturday advancing fireknife dancers will faceoff in final competition during intermission of the Ha: Breath of Life evening show in the Polynesian Cultural Center's Pacific Theater. The title of 2013 World Fireknife Champion will be announced at the conclusion of the Saturday show.
The fireknife dance's origins are tied to the Samoan ailao (warrior's knife dance) performed with the flaming nifo oti (tooth of death). The dance was displayed before battle to frighten the enemy and afterwards to celebrate victory.
The modern fireknife performance involves high-speed spinning of a sharp knife, with both ends set ablaze. The fire is real-deal, and dancers — precise and agile in their rapid movements — sometimes intentionally make contact with the flames. Yikes!
The 21st annual Samoan Cultural High School Arts Festival will be held in the PCC's Pacific Theater, 9 a.m. to 2 p.m. The event features student demonstrations of Samoan traditions, with exhibitions in basket-weaving, coconut-husking, fire-making, and more.
The nonprofit Polynesian Cultural Center, founded in 1963, endeavors to entertain visitors while preserving and portraying the culture, arts and crafts of Polynesia. The PCC has provided financial assistance to students from more than 70 countries during their enrollment at Brigham Young University-Hawaii, based in the Laie.
For World Fireknife Championship ticket information, click here. Click here for details about events at the PCC, or call at (800) 367-7060 (Oahu callers: (808) 293-3333).