"Boardshorts: A Perfect Fit" exhibition spotlights evolution of Hawaii surf fashion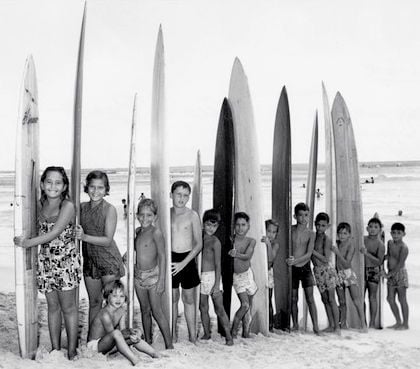 This summer, the Honolulu Museum of Art is offering a look at the art of a utilitarian article of clothing that has evolved from a simple-but-study construction into a high-tech active wear fashion statement.
An exhibit titled Boardshorts: A Perfect Fit will open on Thurs., July 12 and remain on display until Jan. 13, 2013. According to a news release issued by the museum, Sara Oka, the museum's manager of the textile collection, "met with surf world legends and surfshort design pioneers, burrowed through archives, and rifled through thrift stores to tell the boardshort story."
The modern Hawaii surf trunk started off in the 1950s as a custom-made garment. On Oahu, mom-and-pop businesses such as the H. Miura Store in Haleiwa and Nii's in Makaha, sewed boardshorts to order. Though designed for fit and comfort, those early cotton shorts would be no match for today's stretchy, quick-drying gear.
Included in the exhibition are a board and swimwear that belonged to six surf stars, past and present: Eddie Aikau, Lisa Anderson, Gerry Lopez, Carissa Moore, Kelly Slater and Rell Sunn. The exhibition will feature video of vintage and contemporary wave riders.
Here are some of the other highlights.
• Vintage View — Photographs and swimwear from the 1890s to the 1960s set the historical stage.
• Women on Waves — A salute to the achievements of women surfers and their contribution to the boardshort industry.
• Beach Patrol to Safety Officer — A tribute to those who provide world-class lifeguard services.
• Design Evolution/Revolution — Parade of shorts illustrating design trends such as solids, stripes, florals and skulls.
• The Boardshort Deconstructed — Display detailing industry innovations in design, fabrics, and styles—from coconut buttons to Velcro®, cotton to Teflon®-coated polyester.
• Industry Innovators — Popular brands and the development of boardshorts from swim trunks to "baggies" to shorts as canvases for contemporary artists.
For more information about Boardshorts: A Perfect Fit, click here.