Book an Out-of-this-World Getaway at Ko Olina with Stars Above Hawaii
Stars Above Hawaii offers an educational escape for kids—and adults—of all ages.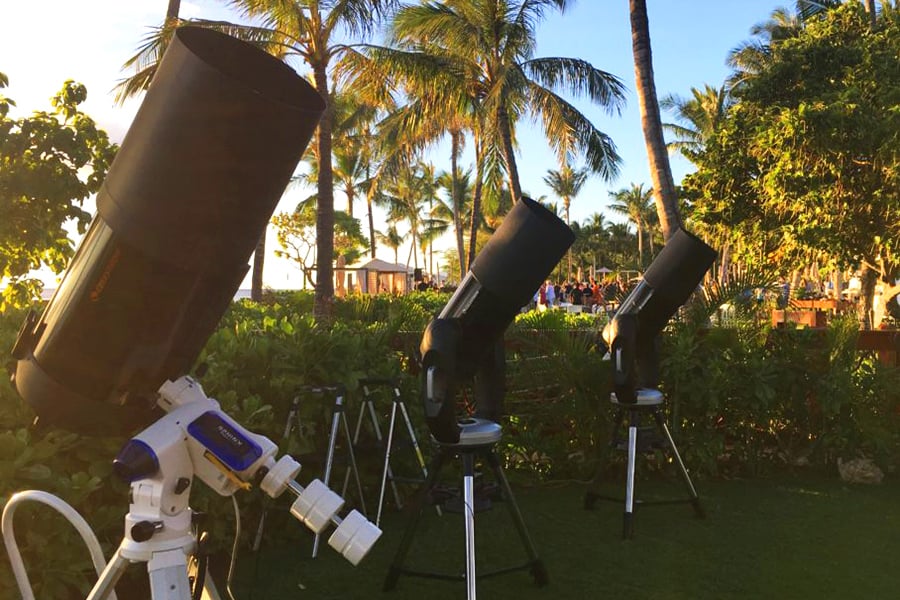 You've been running around to kids' school events, work meetings and family get-togethers all week. In this marathon-meets-juggling-fest of an existence, you're seriously earning your gold star, but even MVPs need a vacation now and then. You deserve it—so what's the hottest new family destination for getting away from it all?
We say: Outer Space.
No, seriously! And, the trip is much easier to make than you think. Instead of a schlep to Disneyland, take a tour through the stars, with Stars Above Hawaii at the Four Seasons Resort Oahu at Ko Olina. The educational stargazing program (that means your family may actually learn something on this vacation) takes place on the edge of the property's pool lawn, just along the ocean, the perfect spot for taking in the great expanse that is the Hawaiian night sky. Owner Greg McCartney is a passionate astronomer and NASA ambassador who has been taking folks on tours of the galaxy—and time!—for 10 years. His narrated laser show will explore Polynesian navigators' journeys using the stars as a compass and utilizes top-of-the-line technology such as GPS telescopes with over 600 times the power of the human eye.
So what's on the itinerary for this next family vacation? Your trip will be packed with sights to see, for sure—but they'll be a bit of a departure from what you're used to. (Think Eiffel Towers or Cinderella's castle.) While exactly what pops up on your journey through the galaxy will depend on weather conditions and the time of year, of course, here are a few highlights that star travelers have seen in the past.
On the itinerary:
Saturn
Those iconic rings you've seen in illustrations and movies so many times? See this remarkable formation for yourself, along with some of Saturn's moons, including Titan, which is 50 percent larger than Earth's moon.
Maui's Fish Hook
Legend has it that the demigod Maui "caught" the Hawaiian Islands with his fish hook, tricking his brothers into doing all the work paddling the canoes that pulled the islands up from the sea floor. This star constellation is the Hawaiian interpretation of the same cluster of stars that forms the Western Scorpio constellation.
Moon
OK, so you've seen the moon from your own backyard many a time. But take a really good look at it at this event, in a way you've never done before. Get so up close and personal that you can explore the moon's famous mountain ranges or gaze deep into its mysterious craters.
Antares
You may have seen this star on your own amateur stargazing and planetarium trips in the past. It's the 15th brightest star in the sky, with a slight reddish hue when seen unassisted. Look closer and you'll see that this guy is actually double the fun: It's a binary star with two stars orbiting around a common center.
Butterfly Cluster
Not far from Maui's fish hook is the Butterfly Cluster of stars, an open cluster that is dense with stars and a shape that loosely resembles a butterfly.
Swan Nebula
Known for its stunning brightness and intensity, the poetically named Swan Nebula is a massive star-forming region in the galaxy. It's 40 light years in diameter and part of a cloud of interstellar matter, resulting in some beautiful multicolored light displays.
$40 for adults, $20 for children ages 5 to 12, 8 p.m. (adults and children) and 9 p.m. (adults only) every Tuesday and Friday, Four Seasons Resort Oahu at Ko Olina, 92-1001 Olani St., Kapolei, reservations required, starsabovehawaii.com.