Book 'em for another year! CBS renews "Hawaii Five-0" for a fifth season.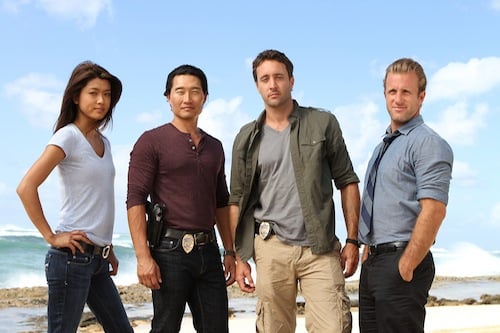 Looks like another year of Daniel Dae Kim's megawatt smile, circular Kakaako police chases, the comedic bromace of one Det. Danny "Danno" Williams and Lt. Commander Steve McGarrett, and (crossing fingers) way more Michelle Borth.
CBS has green-lighted Hawaii Five-0 for a fifth season, presumably beginning in September.
The fifth-season pick-up for the Oahu-filmed crime drama was hardly a surprise. A move for the series last fall from its three-season Monday primetime home to Friday nights has boosted per episode Nielsen ratings for Five-0 and overall Friday night viewership for CBS so far this season. Between season three and season four, the average audience for new Five-0 episodes has risen by nearly a million viewers.

Jorge Garcia and Daniel Dae Kim. Photo: CBS
Better yet—for Lost fans, anyway—the next season of Five-0 will make permanent the current season's reunion of Jin-Soo Kwon and Hugo "Hurley" Reyes. CBS also announced that Jorge Garcia will join Five-0 as a regular cast member beginning with the 2014-15 season, assuring his conspiracy theorist character Jerry Ortega will likely get lots of screen time with ex-high school classmate Lt. Chin Ho Kelly, played by Kim. Garcia and Kim were principal cast members of the Oahu-filmed ABC adventure-drama Lost for its entire six season run between 2004 and 2010.
The rest of Five-0's current principal cast includes Alex O'Loughlin (McGarrett), Scott Caan (Danno), Grace Park (Kona "Kono" Kalakaua), Masi Oka (Dr. Max Bergman) and Michelle Borth (Lt. Catherine Rollins).
Sadly, there's no word yet on the return of McGarrett's seemingly indestructible arch nemesis, Wo Fat, and his alter ego, actor Mark Dacascos. But we're crossing fingers. Stay tuned.