Bring Home Curated Logo Gifts from Moana by Design at the Moana Surfrider on Oʻahu
Remember your trip to the Islands with specialty teas, cookies, apparel and more from this store in the historic Waikīkī hotel.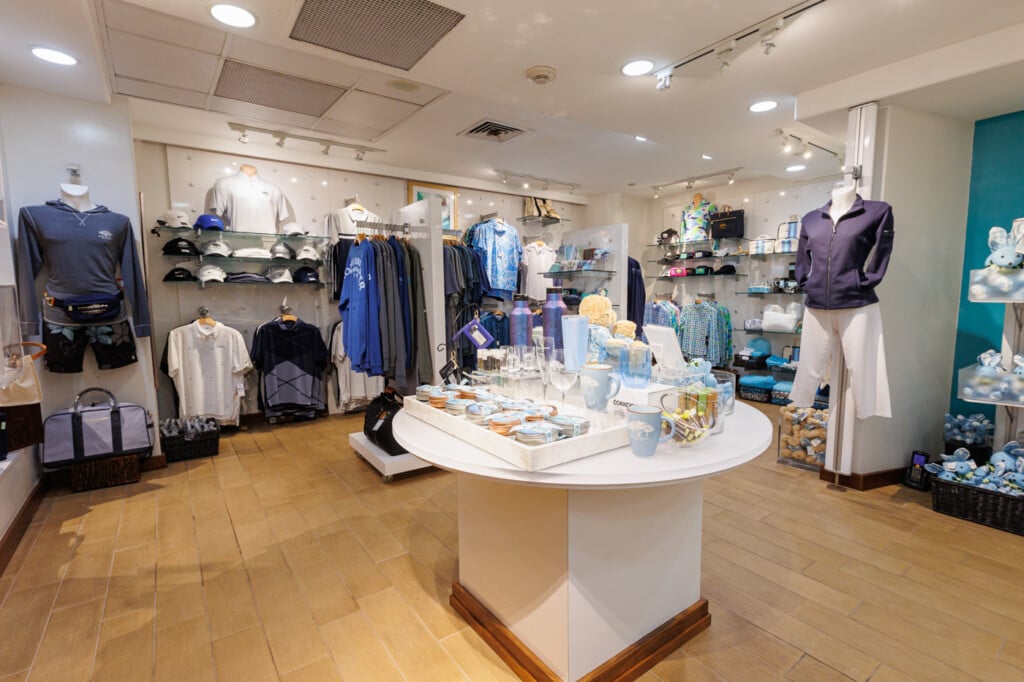 Known as the First Lady of Waikīkī, the Moana Surfrider, A Westin Resort & Spa, is one of the grandest hotels in Hawaiʻi. Originally called the Moana Hotel, it was built in 1901 with 75 rooms, each with its own private bathroom and telephone. The American Colonial-style structure—the first large hotel in Waikīkī—boasted a rooftop observatory, a billiard parlor, a saloon and Hawaiʻi's first electric-powered elevator, which is still in use today.
Today, the Moana Surfrider still has that luxe and grandeur, starting from its welcoming, photogenic porte-cochere on Kalākaua Avenue. People travel from around the world to stay at this historic hotel, to sip afternoon tea or mai tais under the old banyan tree, to soak up the sun on the sands of Waikīkī and to enjoy the area's bustling nightlife.
If you love the hotel—like many do—you'll want to browse Moana by Design, the official logo boutique in the lobby.
The 400-square-foot shop opened in 2013 and is stocked with exclusive logo merchandise, from the signature teas served at the hotel's restaurant to logo polo shirts and beach towels.
"Moana by Design has always been the destination for Moana Surfrider guests—or anyone who loves the First Lady of Waikīkī— to shop," says says Jamie Tokunaga, a spokesperson for the brand. "So if you're looking for a way to take a piece of Hawaiʻi home with you—especially one that marks your time at the Moana Surfrider—we've got you covered."
The most popular items right now at Moana by Design include the shop's Boulevard denim mini totes—sturdy and classic—with pineapples on them by Alohappy, and Moana-logo spirit jerseys. The boutique also carries slippers (or flip-flops), coffee mugs and lunch totes.
Keiki (kids) will love the shop's stuff, too, from the blue rabbit to a cuddly teddy bear wearing a blue-and-white aloha shirt. And couples that have celebrated weddings and anniversaries here will love the Moana Surfrider logo glassware, Champagne flutes and photo frames.
Open 11 a.m. to 7 p.m. daily, Moana Surfrider, A Westin Resort & Spa, 2365 Kalākaua Ave., Honolulu, (808) 924-5516