Can't Stay at the Four Seasons in Hawai'i? Now You Can Experience These Properties at Home
The Hawaiʻi properties are hoping to bring the Islands into your hearts and homes.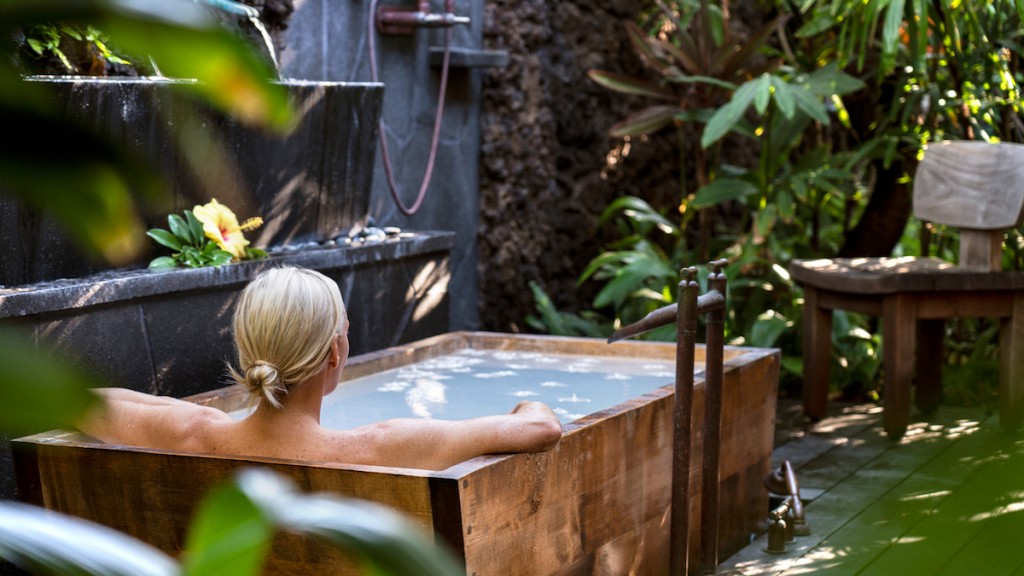 Canceled your Hawaiʻi vacation—or worse, never been here yet?
The Four Seasons Hawaiʻi properties have put together various ways to experience the Islands in your own home.
Spa Like You're at the Four Seasons Resort Hualālai
Located on the Kona-Kohala coast of Hawaiʻi Island, this resort strives to provide a rich Hawaiian experience for its guests—and that includes at its spa. The menu at Hualālai Spa features hyper-local ingredients and the intergration of Hawaiian cultural traditions. Spa director Cecilia Hercik was inspired by the Hualālai apothecary to create an at-home Niu (coconut) Bath Treatment. Hercik recommends lighting a few candles and playing Hawaiian music for a transformational experience.
You'll need:
1 spoonful coconut oil
12 oz. coconut water
12 oz. coconut milk
1 spoonful cocoa butter
1 spoonful cocoa powder
4 oz. sugar (white or brown)
4 oz. sea salt or Epsom Salt
Lime wedge
Instructions:
Scrub: Mix sugar, coconut oil and cocoa powder in a bowl to create a paste. Use this scrub to exfoliate your knees and elbows once soaking.
Bath: Fill your tub with warm water and add mineral salt and coconut milk. Soak and relax in the warm bath.
Hydrate: Fill a glass of coconut water with a wedge of lime and keep it near the tub to enjoy while soaking.
Moisturize: After the bath, massage the cocoa butter for smooth and soft skin.
Learn Self-Reflection with This Journaling Exercise by the Four Seasons Resort Lānaʻi
The newly opened Four Seasons Hotel Lānaʻi at Kōʻele, a Sensei Retreat, offers the first all-inclusive wellness retreat in the Four Seasons collection. This new partnership introduces a science-based wellness program that includes journaling, which can contribute to improved mood, memory and perspective. The Sensei team has created a series of prompts to guide you through your mindfulness journey.
What is my intention today?
What does being well mean to me?
How can I be more present in this moment?
How do my current movement goals align with my overall well-being?
How do my current nourishment goals align with my overall well-being?
What impact would I like to have in this world?
Recreate the Popular Chocolate Avocado Mousse from the Four Seasons Resort Maui
Located on the golden shores of Wailea, this resort boast a culinary and wine culture that has come to define this property. When executive chef Craig Dryhurst created the resort's popular "Wellness Your Way" menu, he adopted a plant-based diet for a few months to ensure he was making the most creative and delicious items possible. Dryhurst believes wellness cuisine should taste rich and flavorful—and that perfectly describes the guest-favorite chocolate avocado mousse. Now you can make it at home.
Ingredients:
4 ripe avocadoes
8 oz. organic maple syrup
2 tsp. organic vanilla extract
4 oz. cocoa powder
½ tsp. cinnamon
12 oz. fresh raspberries
Chocolate shavings (for garnish)
Combine all ingredients in the blender, and blend until smooth and silky. Check sweetness at the end and adjust if necessary. Portion out into containers and layer with five raspberries in each. Top with chocolate shavings and a few more raspberries, and finish with a sprinkle of cinnamon.
Cheers with The Tranquilizer, Courtesy of Four Seasons Resort Oʻahu at Ko ʻOlina
This West Side resort has a distinctive #FSWayfinders program, which aims to connect guests with hand-selected local artisans, cultural practitioners and musicians who curate exclusive experiences showcasing the unique characteristics of the island. At Mina's Fish House, the island's acclaimed restaurant by celebrity chef Michael Mina, master mixologists consider it their kuleana (responsibility) to share their island home with everyone who sits at the bar. The Tranquilizer, a cocktail created to incite the tastes and smells of Hawaiʻi, is one of the team's favorite libations on the menu. And now you can make it yourself.
Ingredients:
1 5th Del Maguey Vida Mezcal
1 5th Espolòn Tequila
3 oz. pineapple juice
Kiwi (for garnish)
1 oz. banana purée
Add all ingredients to a mixing tin. Add ice and shake. Double strain into a collins or pilsner glass. Add pebbled ice. Garnish with a kiwi wheel, edible butterfly and two pineapple fronds.