Car rental companies OK vehicles on Hawaii Superferry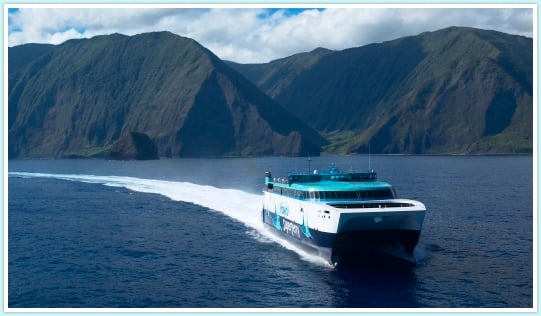 Staying in Waikiki, but want to take your car rental for an afternoon spin on Maui's scenic Hana Highway?
With Hawaii remaining an island state for the foreseeable future, we're guessing you won't be able to drive inter-island direct in, say, this lifetime. But Hawaii Superferry today announced agreements with the bulk of Hawaii's major car rental companies allowing customers to take their rentals on the vessel's so far sole Oahu-Maui route.
The rental car companies offering the service are Hertz, Dollar/Thrifty, Alamo/National, Avis/Budget, U-Haul, Ryder and JN Car & Truck Rental.
Naturally, there are restrictions and possible surcharges from the individual rental companies for the convenience. Click here for a list of rental company links for more information.
The Hawaii Superferry departs daily from Honolulu, Oahu at 6:30 a.m., arriving in Kahului, Maui at 9:30 a.m.; it departs Kahului at 11 a.m. for a 2 p.m. arrival in Honolulu. A second voyage on Sundays, Mondays, Wednesdays and Fridays departs Honolulu at 3 p.m., arriving in Kahului at 6 p.m.; it departs Kahului at 7 p.m. for a 10 p.m. arrival in Honolulu.
For fares and reservations, click here or call 877-443-3779.