Carissa Moore: 5 Things I Love About Surfing at Home in Hawaii
This Honolulu native is not just another surfer.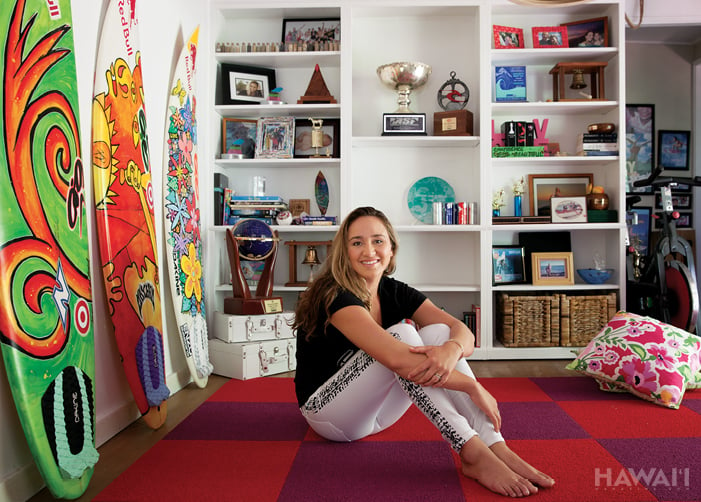 If you didn't know who she was, you would think Carissa Moore was just another surfer girl—white bikini top under a black tank, rocking a trucker hat, greeting regulars at her favorite Oahu south shore surf break, Kewalo's. But Moore is not just another surfer.
The smiley Honolulu resident is the reigning two-time Association of Surfing Professionals Women's World Champion, having locked her second world title last October on the waves of Portugal's Guincho Beach. When home from grueling, globe-trotting eight-month seasons of competition, she's happy to be in warmer local waters, with no pressure to win surf contests and no need for a wetsuit. At least, not until the road calls again.
"Honestly, you can have fun no matter where you are," says Moore, 22. "You just have to make it happen."
Moore has been making it happen since catching her first wave, as a toddler, with her dad, Chris, in Waikiki. "I think I used to throw fits. I didn't like the act of going to the beach," Moore says, laughing. "But once I got there, I loved it."
At age 8, Moore was already teaching herself how to execute difficult surfing moves. Three years later, at age 11, a bona fide surfing phenomenon unbeatable in amateur contests, she became the youngest surfer to ever compete in the prestigious Triple Crown of Surfing on the big winter waves of Oahu's North Shore. Moore's still the youngest surfer to qualify for the ASP World Championship Tour final, a feat she accomplished at age 14.
She earned her first ASP Women's World Championship two years ago, at age 19, becoming the youngest title holder in the tour's history.
Charming, chatty and, well, just-another-surfer-ordinary in person, the Punahou School alum hardly fits the image of fierce competitor or someone well on her way toward becoming one of the greatest female surfers in the history of the sport. Especially when all Moore does in her down time, by her own admission, is clean her house, do laundry and work on her scrapbooking.
"I'm weird like that," she says.
The five things she loves about surfing at home in Hawaii?
1. SURFING WITH FAMILY
"I love—LOVE!—surfing with my dad and sister (Cayla). I love the routine of picking her up from school and (going) to Kewalo's. I love seeing my sister catch waves; I'm so proud of her. And I love seeing my dad bodysurf. It's the whole family thing. This is something we can all share together. No matter what happens that day, when we're in the water, it's like everything washes away."
2. BIKINI-FRIENDLY
"Usually, when I come back from my trips, I'm so white! I love wearing a bathing suit and the feeling of warm water against my skin. Putting on a wetsuit is such a chore. (Last October), I was in France, and then Portugal, and I had to wear a wetsuit. A full wetsuit! It's so nice to not have to."
3. HAWAI'I WAVES
"Being on the road for contests, I'm surfing mostly beach breaks. They're so random and hard to figure out. So I love coming home and surfing reef breaks. You don't have to think as much. We have the best waves here at home. Any time of the year, there are waves breaking somewhere on the island. And we have so much variety here. We have big waves, small waves, playful waves—everything."
4. MORE GIRLS SURFING
"I love seeing so many more girls in the water now. It's so inspiring. To know there's another generation after me that's going to take over is awesome. I remember growing up watching [pro surfers] Megan [Abubo] and Rochelle [Ballard]. Now I see all these young girls and they're catching their own waves and handling the crowds."
5. THE LIFESTYLE
"I love waking up early and surfing in the morning. It's really a healthy, happy lifestyle, especially at Kewalo's. I've built such an awesome family [there] and know every person. If I leave my car door open, I don't have to worry. [While traveling] I miss feeling comfortable and seeing people I know. People here are just so much friendlier and warmer. I love that families grow up on the beach and spend the entire day here."
(An earlier edit of this feature was originally published in the January/February 2014 issue of HAWAII Magazine.)