Catch a buzz with Big Island's annual Kau Coffee Festival
The festival celebrates the district's award-winning brews with a caffeinated dash of small-town charm.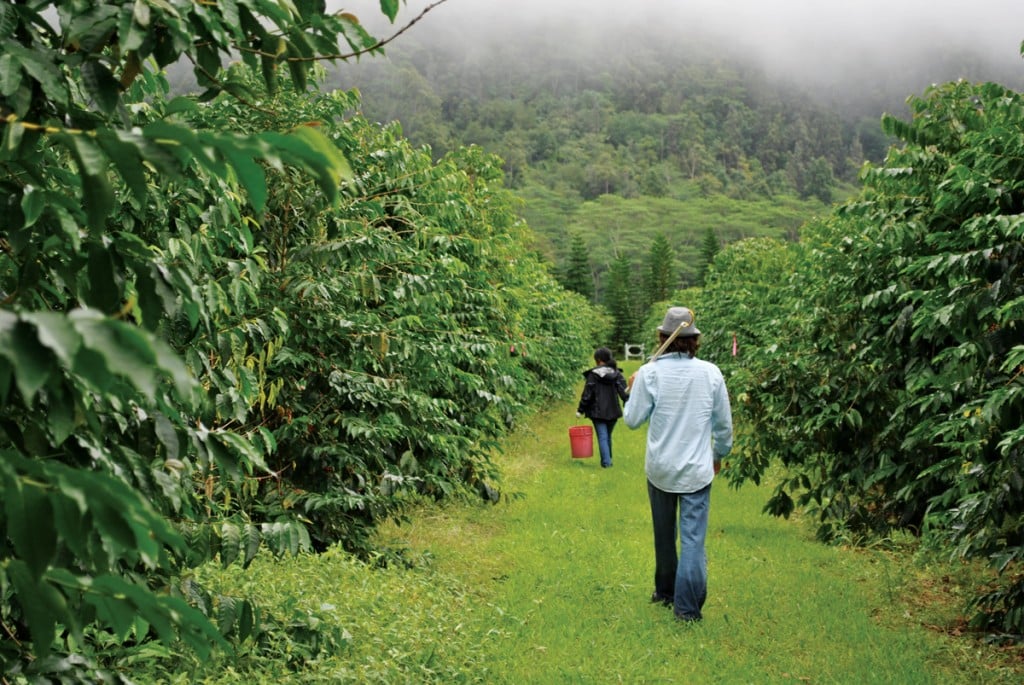 I had just swallowed my sixth cup of steaming-hot, black-as-a-lava-field Kau coffee in less than three hours, and was hopping around like a Mexican jumping bean. Fortunately, I wasn't alone.
Most of the folks at last year's Kau Coffee Festival were as buzzed as I was. And, like my fellow java-junkie festivalgoers, I kept going back for more.
The Kau Coffee Festival was launched in 2009 to showcase the southeast Big Island district's burgeoning and award-winning coffee industry. The annual fest boasts a wonderfully laid-back, small-town vibe, with farmers and their wares set up in stands around the community center lawn in the Kau district town of Pahala. Festival highlights include coffee tastings and demonstrations, a recipe contest, an auction, farm tours and the Miss Kau Coffee pageant—all possessing a sort of Main Street America charm that this city dweller once believed had gone the way of pie walks and potato-sack races.
While Kona has long been the more globally renowned star of Hawaii's coffee industry, Kau has come into its own. Though miles apart geographically, the history of coffee cultivation in both districts is actually intertwined.
Kona's first coffee trees were brought in by Samuel Ruggles in 1828, finding acreage on the steep, mist-shrouded slopes of Hualalai volcano. More than six decades later and 70 miles away, farmer J.C. Searle began planting coffee on his Kau plantation, situated on the equally fertile slopes of another Big Island volcano, Mauna Loa.
"My great-grandfather developed this plantation as an experiment," says Searle's great-granddaughter, Merle Becker, owner of Aikane Plantation Coffee Co. in Pahala. "He was one of the first to grow coffee in the Kau district."
Sadly, coffee as a crop would prove no match for the Big Island's then-booming sugar industry. Unable to compete with the sugar plantations for workers, Searle abandoned his vision. His trees grew wild and untouched for nearly a century until, in the aftermath of the sugar industry's late 20th-century collapse, a group of displaced plantation workers was offered the opportunity to grow coffee on 5-acre parcels of former sugar-cane land. Their farms were launched with trees transplanted from Searle's plantation and from Kona.
Today, the Kau Coffee Growers Cooperative comprises 30 farms on some 280 acres, situated on the slopes of Mauna Loa at elevations of 1,400 to 2,000 feet. With its ample sunlight and rainfall, and mineral-rich volcanic soil, the Kau area, like Hualalai in Kona, offers an ideal environment for coffee cultivation.
As a testament to the quality of the district's coffees, several Kau farms have won prestigious global industry awards in past years. Rising Sun Farm of Naalehu won the Coffee of the Year award (Hawaii category) at the Specialty Coffee Association of America's 2010 Roasters Guild Coffees of the Year Competition. A handful of other Kau farms have also placed in international industry competitions.
Arriving at last year's Kau Coffee Festival, I was greeted by the aroma of fresh-roasted coffee and barbecued meats, a heavenly fragrance someone needs to bottle, pronto. Cup of coffee in one hand, plate of barbecued beef and white rice in the other, I devoured my meal to the sounds of a local band strumming acoustic guitars.
My belly happy, I eventually wandered into the community center, where Dr. Shawn Steiman, Hawaii coffee expert and author of "The Hawaii Coffee Book," was leading a tasting demonstration. Steiman covered everything from how to properly grind coffee beans to the best way to taste coffee. Soon, my head was spinning from information and caffeine overload, bringing me to a sad realization: Steiman's brews were the coffee equivalent of a red cuvée from Châteauneuf-du-Pape, while my usual morning cup o' joe was the equivalent of boxed wine.
Sigh.
The rest of my day was spent in the best way possible: talking story with Kau farmers and their families. I unearthed a nugget or two about Pahala's history, learned more than I ever thought I could about growing coffee, and found myself listening to how rain and sun (or lack thereof) affects crops. (Note to self: If there's one universal truth, it's that farmers love to talk about the weather.)
Fortunately, all of this transpired over several more cups of Kau's finest. And I still wasn't buzzing alone.
Kau Coffee Festival
May 5, 2018, at the Pahala Community Center, 96-1149 Kamani St., Pahala, (808) 929-9550, kaucoffeefestival.com.