Catch a wave of surf films at Honolulu Academy of Arts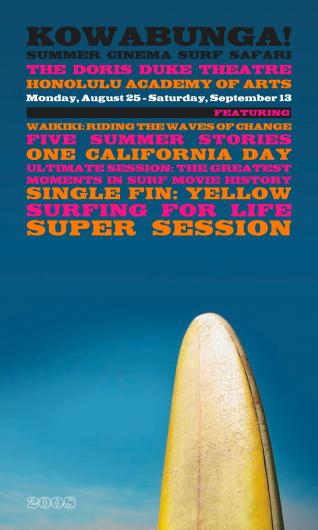 The North Shore of Oahu's winter monster wave season is three months away. The surf forecast today promises swells of two feet or less.
Good time, we think, for surf fans to bone up on better days at the Honolulu Academy of Arts' three-week wave film fest "Kowabunga! Summer Cinema Surf Safari." A half-dozen films will get the big screen treatment at the academy's Doris Duke Theatre now through Sept. 13.
Let us know if this flick menu gets you stoked (click titles for video clips):
Five Summer Stories (1972), One California Day (2007), Ultimate Session: The Greatest Moments in Surf Movie History (2006), Singlefin: Yellow (2005), Surfing For Life (1999), Super Session (1975).
(Yeah, we're kind of bummed 1966 granddaddy of surf films The Endless Summer isn't in the mix, too. Oh well … there's always the DVD.)
The Academy has gotten Hawaii surf world legends Randy Rarick, Bonga Perkins, Fred Van Dyke and board designer Ben Aipa to personally introduce the Kowabunga! flicks nearest and dearest to them, and hang out for talk story afterward.
The fest was put together by Jackie and Eric Walden, co-owners of downtown Honolulu's Chinatown Boardroom, with some help from the academy. If you haven't checked out the Walden's Chinatown district surfboard shop, surf art gallery and surf lecture hall yet, you should.
Click here for the Kowabunga! film fest schedule and ticket info.