Celebrate Earth Day in Hawaii with some green work. Where to go.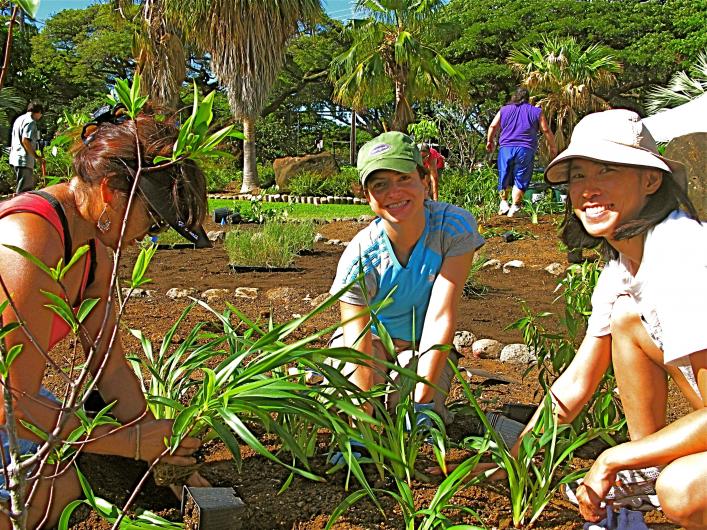 This week, as we celebrate Earth Day, green-minded voluntourism opportunities in Hawaii, ranging from beach cleanups to native plant restoration efforts, are in the works.
By volunteering for even a few hours with endeavors aimed at preserving paradise, you can gain a deeper appreciation of Hawaii's awe-inspiring yet fragile environment.
Environmental voluntourism offers vacationing visitors an opportunity to authentically connect with our landscapes, seascapes and people.
Yes, you will get dirt under your fingernails. And you may walk away from your volunteering stint with mud-caked shoes and salt water in your hair, but you'll likely end the day with a smile on your face. Why? It just feels good to know that you can help protect Hawaii's beauty by dedicating a few hours of your time in the Islands for a morning or afternoon of getting involved.
Here and on the next page, you'll find a list of Earth Day opportunities on Kauai, Maui, Oahu and the Big Island. Additional details about each of these and other workdays and events are available at the
Preserve Hawaii
website, operated by Kirsten Whatley, author of
Preserving Paradise: Opportunities in Volunteering for Hawaii's Environment
.
KAUAI

Surfrider Kauai, Sierra Club & Malama Mahaulepu
Beach cleanup at Mahaulepu Beach, starting at 9 a.m., Saturday, April 23. Bring sunscreen, hat, and water. Trash bags and gloves provided. For more info, call (808) 635-2593 or click here.
Friends of Kamalani & Lydgate Park
Cleanup at the beach, elaborate playground area and elsewhere in the Lydgate Park, 7:30 a.m. to noon, Saturday, April 23. Bring sun protection, work gloves, sturdy and flexible rakes. Check in at tents near Kamalani Playground. Refreshments and lunch provided. For more information, contact ThomasNoyes@hawaiiantel.net, call (808) 639-1018 or click here.
MAUI

Save Honolua Coalition
Help clean up of the area around Honolua Bay and Lipoa Point, 8 a.m. to 11 a.m., Saturday, April 23. Wear shoes, hats, work clothes and sunscreen. Snacks provided. For more information, contact lespotts@msn.com, (808) 665-0043 or click here.

Kaanapali Makai Watch
Kahekili Stewardship Day offers you a chance to learn about and get involved with programs ranging from fish surveys to beach cleanups, 9 a.m. to 2 p.m., Saturday, April 23, at Kahekili Beach Park . For more information, click here.

OAHU

Waikiki Ohana Workforce
Help clean up Waikiki area beaches, 7 a.m. to 9 a.m., Saturday, April 23. Meet at the Duke Kahanamoku statue in Wakiki's Kuhio Beach. Continental breakfast provided.
RSVP at (808) 923-1094 or send e-mail to mail@waikikiimprovement.com. For more information, click here.

Windward Ahupuaa Alliance
Roadside cleanup around Kawainui Marsh, lunch, entertainment and native tree planting, 7:15 a.m. to 12:45 p.m. Saturday, April 23. For more information, send e-mail to info@waa-hawaii.org or click here.
BIG ISLAND
Kohala Watershed Partnership
Invasive species removal and native plant restoration, 8:30 a.m. to 3:30 p.m. Saturday, April 23. Volunteers will meet in Waimea area and be transported by four-wheel drive vehicles to the work site. Sturdy shoes or mud boots required, water-resistant pants recommended. Bring water. Lunch, tools, and gloves provided to volunteers who register by midday Wednesday, April 20. RSVP at pelekaneadmin@kohalawatershed.org For more information, click here.

Earth & Ocean Day Festival
Organized by the University of Hawaii Sea Grant College Program and the Kona-Kohala Chamber of Commerce. The festival — from 10 a.m. to 3 p.m., Saturday at Keahou Beach Resort's luau grounds — will education, hands-on activities, food and entertainment. For more information, click here.