Char's Chopsticks: Aloha Tower's super seafood and sushi buffet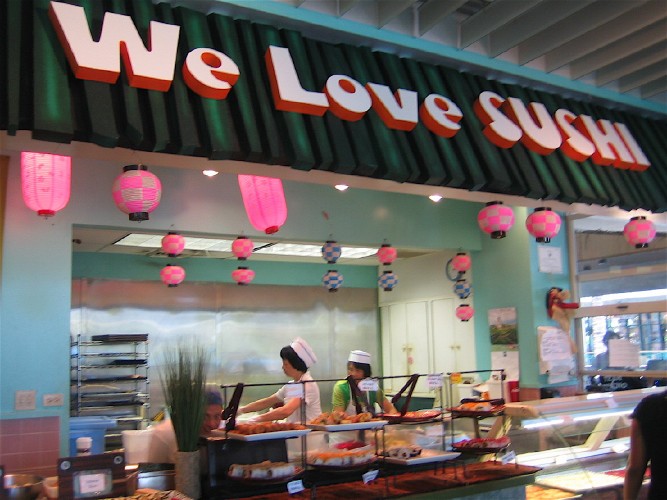 I can't get enough sushi. One of the places to indulge in this Japanese cuisine is Makino Chaya, located in Aloha Tower Marketplace.
The restaurant's decoration is a bit cheesy (where else would you find fish and octopus legs hanging from the ceiling?).
But don't let that deter you from entering the restaurant.
Makino Chaya has five different food stations: Neptune Island, We Love Sushi, Tempura Bar, Teppen Yaki Ki and Makino's Kitchen. The restaurant's setup is similar to a food court, but unlike the mall's food courts, it's a buffet!
I ordered pretty much everything I saw: from shrimp tempura, unagi (freshwater eel) sushi, California rolls, sashimi, lumpia, spicy ahi rolls, stuffed crab shell, baked onaga (red snapper), mussels, salmon to tako (octopus) on a stick. There was an endless joy of seafood and sushi in the We Love Sushi section.
In addition to sushi, you can also have fried rice, fried noodles, miso soup, grilled-to-order Wagyu beef, salads and several side dishes such as poke and macaroni salad.
A must-try? The sushi covered in tempura batter and then deep-fried. Yes, that's right. The best of both worlds, sushi and tempura.
I managed to save a room for dessert. We headed straight for the station where
fresh crêpes are made right before your eyes, with your choice of fresh fruits, mixed berries, whipped cream and ice cream. I chose to have strawberries, blueberries and vanilla ice cream in my crêpe, topped with powdered sugar and drizzled with chocolate sauce (pictured right). Yum.
Makino Chaya also has a chocolate fondue station (pictured below). As I walked back to my table, I couldn't resist dipping a marshmallow into the cascading chocolate waterfall. Who could blame me?


I must say, it was a great lunch deal for $13.98 (plus tax). It's amazing I walked back to the office after lunch.
Makino Chaya is open daily for lunch and dinner. Buffet prices are slightly cheaper on the weekdays. Children 3 years and younger are always free. Call (808) 585-6360 for hours, menu prices and reservations.