Char's Chopsticks: Fresh Catch restaurant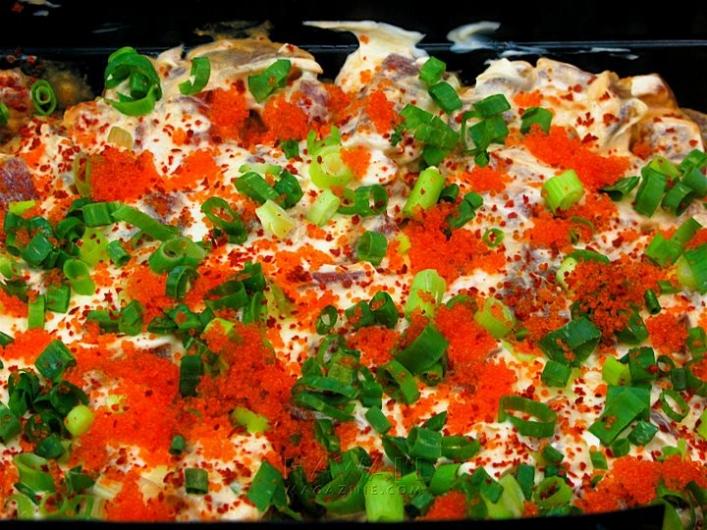 Hawaii's most popular pupu (appetizer) is poke (seasoned bite-sized raw fish). It's a common staple you'll find at backyard barbecues, grocery stores and even fine-dining restaurants in the Islands.
While many sell the usual soy-sauce-sesame seed oil-onion ahi poke, Fresh Catch specializes in 25 different styles of poke. This Kaimuki restaurant on Waialae Avenue reinvented the spicy ahi (tuna) poke by adding Hawaiian chili peppers and a few secret ingredients. It's called the fireball ahi (pictured above right), a popular hit with kamaaina.
Fresh Catch also carries pokes you won't find at many places, including taegu ahi, lomi oio (bonefish), ake (raw beef liver), pipikaula (dried beef) and spicy smoked tako (octopus).
Deciding what to eat at Fresh Catch for the first time can be overwhelming. "So many choices!" exclaimed one customer.
Besides the poke, there are plate lunches (click here to see the menu). "We're selling 200 plates a day," says chef/owner Reno Henriques. So far I've tried the ahi-stuffed crab roll (pictured above), furikake salmon, clam chowder and the fried ahi belly plate lunches. All I can say is that I licked each plate clean.
Never tried poke before? Reno and his staff are more than happy to give you a sample. Here is a video of his recommendations and a tour of his restaurant.
Fresh Catch is mainly a take-out restaurant, but there are picnic tables if you want to eat right away.
Below is a slideshow of some of the poke and plate lunches available at Fresh Catch. Don't drool on your keyboard. (Click on the slideshow screen for larger photos.)
Insider's tip: Reno plans to open up a second Fresh Catch restaurant in Kaneohe on Oahu's windward side. We'll let you know on HawaiiMagazine.com when it's open.