Char's Chopsticks: Giovanni's Aloha Shrimp truck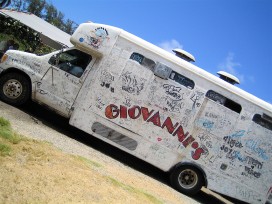 When it comes to Oahu's North Shore, two things come to mind: big waves and shrimp trucks.
Shrimp trucks are like mini restaurants on wheels. You can find many of them along Kamehameha Highway, including Giovanni's Aloha Shrimp.
Even though this restaurant has no address, it's not hard to find. When you're in Kahuku, look for the graffiti-covered van (pictured above), which serves as a kitchen.
But don't expect anything fancy: The "restaurant" is really a bunch of plastic tables under a roadside tent, as you can see.
Giovanni's offers three types of shrimp plates: shrimp scampi, hot and spicy shrimp ("Super hot, NO REFUNDS!!") and lemon and butter shrimp. They also sell hot dogs cooked in garlic.
We ordered Giovanni's most popular item, the shrimp scampi—shrimps sautéed in white wine, olive oil, garlic, salt and pepper and lemon juice (pictured below). For $12, we got two scoops of rice, a lemon wedge, hot sauce in a container and a half-pound of shrimp.
They also give you a stack of napkins. Believe me, you'll need them. Eating can get messy, but you won't mind once you taste the garlic-and-butter sauce. They even pour the sauce on your rice!
The only downside? The shrimps' shells are left on.
I'm not a big shell eater. The problem with peeling off the shell is that the buttery garlic chunks also came off, leaving me with a plain shrimp. Not wanting to skip the best part, I ate more shells than I anticipated.
Despite its Kahuku location, the shrimps we ate were not from Kahuku. They're flown in from the neighbor island.
Insider's Tip: If you stop by Giovanni's on a holiday, they only sell shrimp scampi plates.