Char's Chopsticks: Punaluu Bake Shop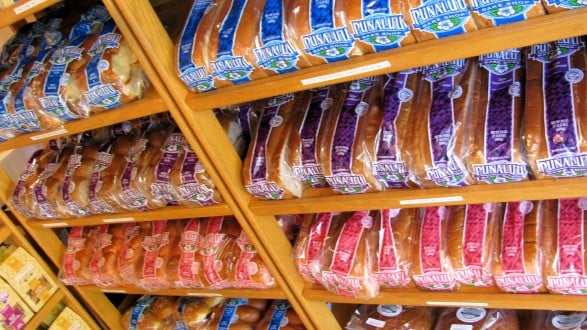 Have you been to the Southern-most bake shop in the U.S.A.?
The only bakery that can claim this title is Punaluu Bake Shop on the Big Island.
But don't let the name fool you. Punaluu Bake Shop is not in Punaluu.
It started in Punaluu when the traditional family sweetbread recipe became a big hit at a resort restaurant in the 1970s, but when the bakery opened in 1991, it moved a little farther south to Naalehu.
Punaluu Bake Shop is best known for its sweetbread, which comes in three flavors: traditional, taro and guava. Other specialties include its shortbread cookies and 100 percent Kau coffee.
Besides its bake goods, Punaluu Bake Shop serves sandwiches, soups, salads and plate lunches. You can eat at a dining area near palm trees and a pond. There's also a gift shop of Hawaiian CDs, jewelry and other Island souvenirs. Instead of postcards, you can send a coco-note (a hand-painted coconut that you can actually mail to your family and friends).
On my recent trip to the Big Island, I loaded up my shopping basket with loaves of sweetbread and some taro dinner rolls to take back to Oahu. Since I have a sweet tooth, I couldn't ignore the guava-sugared malassada and a lilikoi (passion fruit) glazed malassada (pictured below).
I've had my share of malassadas over the years, but I've never had anything like this lilikoi-glazed treat. I was quite impressed with its sweetness and Island-fruit flavor. I savored every sugary bite.
Not on the Big Island? Punaluu Bake Shop can ship your order to the Mainland.
Insider's tip: Use Punaluu Bake Shop's Hawaiian sweetbread the next time you make French toast for breakfast. It's the best in both taste and consistency.