Char's Chopsticks: Ted's Bakery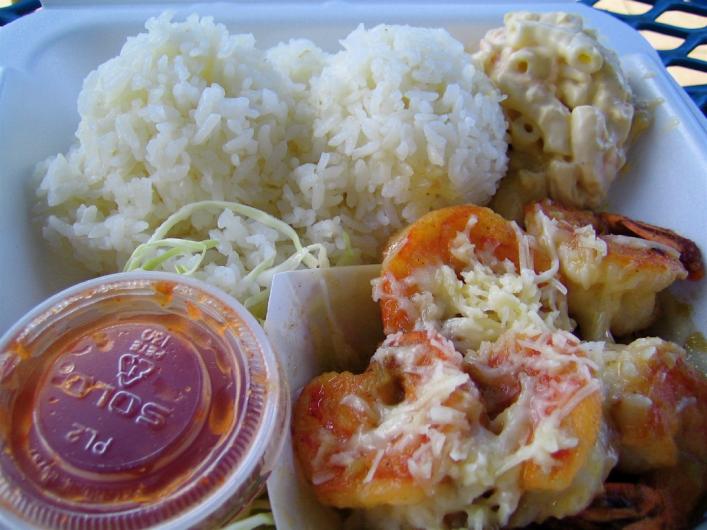 There are many tasty garlic shrimp plates on Oahu's North Shore, but the best doesn't come from a shrimp truck.
At Ted's Bakery, the butterfly-shelled shrimps are smothered in a butter-and-garlic sauce. Because the shells are removed, the flavor soaks into the shrimp. You can't beat the buttery taste and succulent meat. That's why we selected it as the winner of our "Best Garlic Shrimp Plate" category.


The even better part? These shrimps are topped with fresh grated Parmesan cheese. We know you're not supposed to put cheese on seafood pasta. But this is an exception. Don't knock it till you try it.
The bakery offers breakfast specials, pastries, cakes, hot sandwiches, bentos, salads and plate lunches.
Besides the garlic shrimp, we also ordered a loco moco, which actually came with three scoops of rice (pictured right). The hamburger was nice, fat and juicy, and smothered in gravy.
Ted's Bakery is also the home of the original chocolate-haupia cream pie (pictured below). The cream pies come in other flavors, but I recommend the original. You can buy whole pies or just a slice. If you can't get to Sunset Beach, Ted's pies are available in Honolulu at most Times Supermarkets and Longs Drugs store.
At Ted's, it doesn't matter how you're dressed. You can often find shirtless, tanned beach boys walking into the bakery barefoot. Who can blame them? The beach is right across the street.
If you'd rather not eat at the beach, there are covered picnic tables right outside the bakery.
Insider's Tip: If you don't drive, there's a bus stop right in front of Ted's. Catch route 52 on TheBus to get there. Look for the mural on the restaurant.
For more editors' picks, check out our "Best of Hawaii" cover feature in our September/October 2008 issue—available at most national bookstores and newsstands, by print subscription and in a digital format you can download.