Char's Chopsticks: Uncle Bobo's Smoked BBQ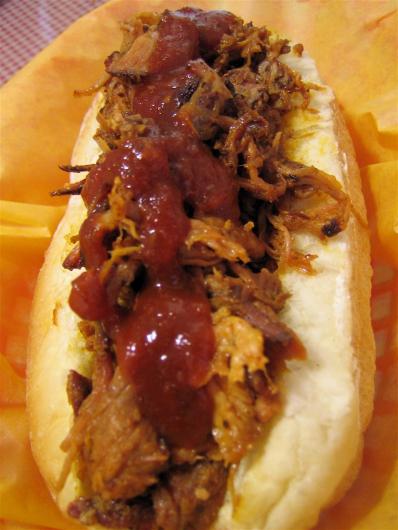 I've been writing a lot about the shrimp meals I've had, but maybe these crustaceans aren't on your list of favorite foods.
Hungry for something else? Try Uncle Bobo's Smoked BBQ's pork shoulder sandwich (pictured right)—our choice for "Best Alternative to Oahu's North Shore shrimp trucks." It nabbed the honor in HAWAII Magazine's annual "Best of Hawaii" issue, out this month.
Tucked between the Kaaawa Post Office and a 7-Eleven store on Oahu's windward side, Uncle Bobo's is one of the island's best-kept food secrets. Husband-and-wife co-owners Robert and Keiko Joyce created the restaurant's most popular sandwich.


The sandwich begins with Robert (pictured left) dry-rubbing pork shoulder with secret seasonings. He then smokes the prepared meat over hickory and oak wood for eight hours, right in the restaurant's backyard.
"If you use kiawe wood and smoke it for eight hours, the meat will taste like a Goodyear Tire," says Robert, about why he won't use kiawe—a non-native mesquite wood popular for smoking meats in Hawaii.
Back in Uncle Bobo's kitchen, Keiko piles the finished pulled pork onto a soft French cottage roll and smothers it with the couple's zingy homemade barbecue sauce. The result is the meatiest, most tender and moist sandwich I've ever had.


Uncle Bobo's variety of smoked barbecued meats is its specialty, as you can see. But its menu also features plate lunches, homemade burgers, hot dogs, salads and shave ice.
Robert and Keiko also run an on-site catering service. We're told the crew of Oahu-filmed TV series Lost can't get enough of Uncle Bobo's Smokehouse Special.
I know your next question. Who the heck is Uncle Bobo?
When Robert's niece was younger, she couldn't pronounce his name so she called him "Bobo." Hence, Uncle Bobo's.
Insider's Tip: You can get to Uncle Bobo's by hopping aboard TheBus (route 55).
For more "Best of Hawaii" picks from our readers and editors, pick up a copy of our September/ October 2008 issue—available at most national bookstores and newsstands, by print subscription and in a digital format you can download.