Char's Chopsticks: Vietnam Café in Chinatown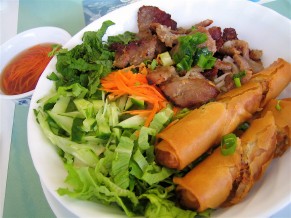 When I have cravings for bun cha gio thit nuong (a Vietnamese dish consisting of rice vermicelli, barbeque pork and spring rolls), I like to go to Vietnam Café Pho Saigon, a small restaurant on the corner of Hotel and Smith streets in Honolulu's Chinatown.
There's nothing fancy about the restaurant, but don't let appearances fool you.
The dishes on the menu are written in Vietnamese, with descriptions in English. If you can't pronounce the dish's name, you can also tell them what number you'd like to order.
The best thing about ordering No. 7 is the generous amount of toppings on the bed of cold noodles: spring rolls, grilled barbeque pork, lettuce, bean sprouts, cucumber and fresh mint.


If you'd rather not eat pork, you can get these cold noodles with broiled fresh prawns, lemongrass beef, chicken curry and crab meat to name a few other options.
It's best to get to the restaurant by 11:30 for lunch. As it gets closer to noon, the restaurant fills up with businesspeople, retirees and out-of-town visitors.
Insider's tip: The bill doesn't come to the table. When you're done, walk to the front counter. They'll know how much you owe when you tell them your table number. At least this way, you never have to wait for your waiter/waitress for your change.