Chasing Trail: Exploring the Koloa Heritage Trail along Kauai's scenic south shore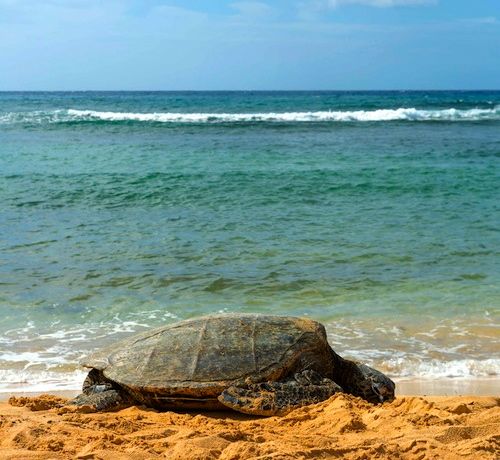 Digging my toes into warm, sugary-fine sand at Poipu Beach Park, I exchange a few sidelong glances with a large honu (green sea turtle) parked just yards away at the water's edge. In complete synch with the Garden Isle's easygoing vibe, neither of us is in a hurry to leave the lapping waters and midmorning sunshine just yet.
Still, I'm hoping to explore another 13 stops along Kauai's south shore before the sun goes down—many of them, I hope, as lovely as this one. After slowly gathering up my slippers and daypack, I bid a fond "see you later" to my reptilian neighbor (pictured, above) and leave him to his day of leisure. I've got some trail work to do.
My traveling companion and I are following the self-guided, 10-mile Koloa Heritage Trail—in Hawaiian, Ka Ala Hele Waiwai Ho'oilina o Koloa—which meanders through the resort community of Poipu and nearby former sugar plantation town, Koloa. The path, which winds by cultural, historical and geological sites, each marked by a lava-rock pedestal marker with a descriptive bronze plaque, is open to walkers/runners, cyclists, motorists and anyone else up for catching glimpses of a vast past.
The Poipu Beach Association offers a convenient map, with each of the trail's 14 stops numbered to keep a sort of linear, non-backtracking route from coastline Spouting Horn Park to Koloa Missionary Church, further inland. But, as Fleetwood Mac once suggested in song, I decide to go my own way.
The marker at the entrance to Poipu Beach Park (Marker No. 6) focuses on the area's abundant marine life, which has changed little since early Hawaiians fished these waters and harvested salt in evaporative pools dug out from land near the shore. In addition to swirling schools of tropical fish, eels, sea urchins and the occasional sunbathing honu, rare Hawaiian monk seals are often spotted here swimming or lounging in the sand.
Down the road from Poipu Beach Park and a short drive inland is the roadside marker for Puuwanawana (No. 9), one of about 40 long-extinct volcanic vents dotting this slice of the island, created by explosive lava eruptions between 3.5 million and 500,000 years ago. The titular natural feature of another rugged site, Spouting Horn Park (No. 1), is a punctured ocean lava tube that sends sprays of seawater up to 60 feet in the air.
While other visitors gather in a fenced-in overlook, cameras at the ready for Spouting Horn's next burst, I gaze down at the shoreline's glistening blue-green waters and listen for the sound of a hissing lizard. According to Hawaiian legend, an enormous mo'o (lizard) exploring the lava shelf here got stuck in the lava tube's puhi (blowhole). The noise accompanying each wave's geyser of spray through the puhi is believed to be the mo'o's huffy exhale.
The next site noted on the Heritage Trail map takes us to a small park fronted by a fishpond. The area is the Birthplace of Prince Jonah Kuhi Kalanianaole (No. 2), born 140 years ago in a grass hut. Kuhio was 22 years old and in line for succession to the Kingdom of Hawaii's throne when the monarchy was overthrown in 1893. He went on to become the only person born into royalty to ever serve in the United States Congress. The Koloa and Poipu communities celebrate Kuhio's birthday each March with two weeks of festivities.
Among the other Heritage Trail sites in the Poipu area is Hanakaape Bay & Koloa Landing (No. 3), where as many as 60 ships anchored annually during Hawaii's 19th-century whaling boom. On our visit, a few scuba divers bob on the surface of the landing's gentle waters. No ships in sight. Further east, we stop at Kihahouna Heiau (No. 5), an ancient temple dedicated to several Hawaiian gods, including Kane, god of creation.
If you're traveling the Heritage Trail by car, you'll find most of the roadside markers easy to find. Kihahouna Heiau, however, is tucked into a beachfront walking area near a cluster of resort properties. At midday, my traveling companion and I briefly search for the marker before breaking for lunch.
In the early afternoon, we make our way inland to find the Heritage Trail's Koloa area markers. Among the most visible of these sites is the Sugar Monument (No. 12) (pictured, right), commemorating Hawai'i's first sugar mill, which opened in Koloa in 1835. Across the street from the monument, we find Yamamoto Store & Koloa Hotel (No. 13), (pictured, below) which opened and thrived during the area's sugar-plantation era. Both are now occupied by other businesses and situated in what is called Old Koloa Town, whose two main streets are lined with plantation-style storefronts housing retail and food shops, restaurants and outdoor-activity businesses. Various historical relics as well as photos and stories detailing the town's past are on display in the Koloa History Center, on the grounds of the former hotel.
By late afternoon, our count of checked-off historic gems on our Heritage Trail map is up to a full dozen, with quite a bit of south-shore backstory absorbed along the way. With pau hana (finished work) time already under way in Old Koloa, my traveling companion and I decide to save the hunt for the two remaining trail markers—Keoneloa Bay (No. 7) and Makawehi & Paa Dunes (No. 8)—for a future Kauai visit.
Right now, I have my sights set on motoring back to my midmorning Poipu Beach Park starting point to find a seat on the sand where I can soak in the sunset and look for my well-rested honu friend, now likely slipping back into the sea.