Cheap eats in Honolulu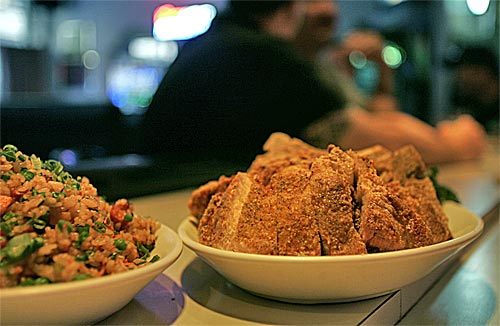 Even the Los Angeles Times knows who to seek out for insider tips about finding Honolulu's tastiest and best meal bargains.
The Times called HAWAII Magazine editor and Taste of Paradise columnist John Heckathorn to find out where Hawaii residents actually flock to when they get hungry.
Heckathorn's name is in the story the Times wrote. But because of the design of the newspaper's Web site, it's somehow easier to find that story, rather than the list of inexpensive restaurants he helped compile.
The pay dirt, if you will.
We keep getting asked: Where's the list? Clearly, we needed to sweep in and save the day.
The list of 20 Honolulu spots where you can eat for less than $20 was a tough find. But find it we did.
Here's the story, and, more importantly, the list.
Print it out before your next Oahu trip and you won't go hungry.
Bon appetit!
Have a favorite Honolulu spot you like to nosh at? Share it with HawaiiMagazine.com dwellers below.