Chef Nobu in Nobu Waikiki kitchen this week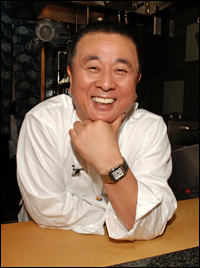 Celebrity chef and restaurateur Nobu Matsuhisa is back in town at his Nobu Waikiki restaurant checking in on the kitchen staff and meeting with diners.
Stop by tonight, Friday or Saturday and Chef Nobu himself might just take a seat at your table to offer dining recommendations or even suggest a sake pairing. Really.
Matsuhisa visits Nobu Waikiki more often than any of his 22 restaurants worldwide. But he's also in town for this week's Sony Open In Hawaii at Oahu's Waialae Country Club.
Chef Nobu, his Waikiki crew and Nobu Miami Beach executive chef Thomas Buckley will be cooking for more than 1,000 guests on Thursday at the official Sony Open dinner at the Hawaii Convention Center. (No Chef Nobu appearances at the Nobu Waikiki that evening. The restaurant will be closed.)
Matsuhisa played in the Sony Open Dream Cup Pro-Am tournament on Monday. That same evening, he hosted an invitation-only launch party for his and Buckley's new Nobu Miami-The Party Cookbook at Nobu Waikiki.
We were there. The Miami Margarita (pictured, right) with its generous anejo tequila pour, fresh lime and passion fruit, honey syrup and considerable kick of shichimi togarashi spice powder was a personal favorite. Skip the mai tai for the night. Try this instead.
Of the remaining evenings on Chef Nobu's Honolulu visit, I'd recommend a Friday dinner reservation. Matsuhisa will be in the kitchen that evening to oversee an omakase (Japanese for "entrust") dinner at the restaurant.
Omakase dining—where diners allow the chef to select courses—is offered at Nobu Waikiki every night. But it's a rare treat to have Matsuhisa himself in the kitchen personally choosing your dining courses from a panoply of the restaurant's best ingredients.
Matsuhisa and Buckley will be autographing copies of Nobu Miami. (Regularly $39.95, copies will be on sale for $30 that evening.)
There will be two omakase seatings at 5:30 p.m. and 8 p.m. that evening. The cost per person is $120.
Nobu Waikiki is located in the Waikiki Parc Hotel. Call 808-237-6999 for reservations.