Chef Roc Will "Shoyu" How To Cook and Entertain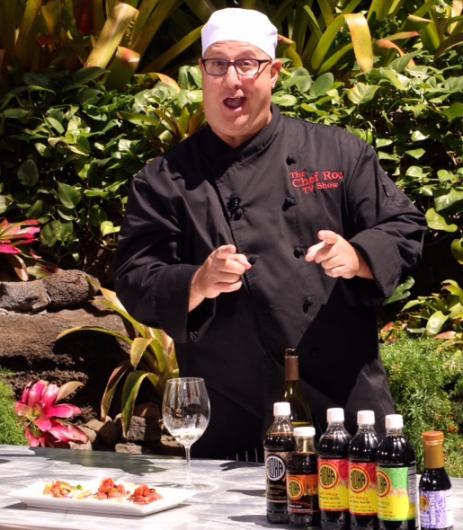 Chef Roc was born, Steve Cassarino, but gained fame as one half of the celebrity television chef duo, the Clever Cleaver Brothers. The TV team first met while studying culinary arts at Johnston & Wales University, and began their career in entertainment with a video cookbook for beginners. From there, Chef Roc and his on-camera partner, Lee N. Gerovitz, grew to become "stand-up chefs" with their Vegas-style cooking show. The Clever Cleaver Brothers were so entertaining and funny that they regularly appeared on shows like "The Tonight Show starring Jay Leno, "The View," "Live! With Regis," "Entertainment Tonight" and more. Now, Chef Roc entertains and educates with his show, "The Chef Roc Show" on KFVE in Hawaii, KAKZ TV4 in Palms Springs and on TUFF TV. The celebrity chef graced HAWAII Magazine with his recipe for Aloha Steak on a Stick for you summertime barbecues.
Chef Roc's Aloha Steak on a Stick Recipe
Yields 16 appetizer portions
2 pounds skirt steak
16 wooden skewers, soaked in water for 30 minutes
Marinade
1/2 cup Aloha™ Soy Sauce
2 tbsp. sweet Chinese chili sauce
1 tsp. sesame seed oil
1 tbsp. Cholula® Hot Sauce
2 tsp. lemon grass puree or 1/4 tsp. dried lemon grass
2 tsp. grated ginger
6 cloves minced garlic
1/4 cup green onions – sliced thin
1 tbsp. black sesame seeds
1/4 tsp. salt
1/8 tsp. black pepper
Trim the fat and membrane from both sides of the skirt steak. With a sharp knife, slice the skirt steak against the grain into thin slices.
Feed the beef slices onto each skewer. Spread out the beef on the skewer to make as thin as possible. Place all 16 skewers into a large plastic container, making sure they can all lay flat.
In a bowl, combine the marinade ingredients. Pour marinade over skewers, lifting the skewers to make sure they all are covered with the marinade. Cover container and refrigerate a minimum of three hours (overnight is better).
Preheat the grill to medium-high heat. Place the skewers on the grill and cook for 1 minute on each side.
Remove from the grill and enjoy Aloha Steak on a Stick with a cold Kona Beer.