Chinese New Year celebrations fill Honolulu's Chinatown district this weekend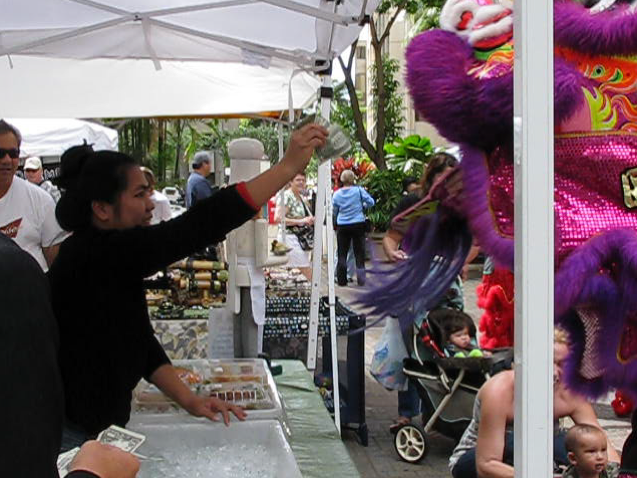 Hawaii's second New Year—also known as the Chinese New Year—officially starts on Feb. 14, but Downtown Honolulu's Chinatown arts district kicks off its celebratory events this weekend.
The Year of the Tiger celebrations begin Friday with a choy cheng (traditional Chinese lion dance blessing) and continue with these events throughout Chinatown:
Friday, Feb. 5:
• Chinese lion dance blessing (76 N. King St.)
• Chinatown Open House (Chinatown Cultural Plaza)
• Narcissus Queen Visitation (various Chinatown businesses)
Saturday, Feb. 6:
• Chinatown Open House (Chinatown Cultural Plaza)
• Night in Chinatown Festival (Maunakea and Smith Streets)
• Night in Chinatown Parade (Hotel St. near the State Capitol to Maunakea St.)
The two-day arts district celebration will pack in entertainment, martial art demonstrations, a parade through Chinatown and many tempting food booths. Choose from an assortment of special Chinese delicacies—believed to bring good luck, prosperity and long life—at the Chinatown Open House. On the menu: gau (sticky rice cake made from brown sugar), jai (vegetarian monk's food), gin doi (Chinese doughnut) and candied fruit.
The best part of the annual Chinese New Year celebration? All events are free and open to the public.
Can't make it this weekend? There's another Chinese New Year celebration next week:
Friday, Feb. 12:
• Kung Hee Fat Choy (Aloha Tower Marketplace)
People born in the Year of the Tiger (1926, 1938, 1950, 1962, 1974, 1986, 1998, 2010) are believed to be quick learners, natural-born leaders and often work towards positions of power and influence. They have charismatic personalities, are outgoing by nature and impulsive. Like the fierce animal that rules their year, they can also be unpredictable, aggressive, reckless and selfish.
For a deeper understanding of this traditional Chinese holiday, check out the feature article "Chinese New Year in Hawaii," from HAWAII Magazine's January/February 2007 issue.