Coconut Festival on Kauai's Coconut Coast showcases creative dishes
This month a celebration of the Polynesian food staple took place.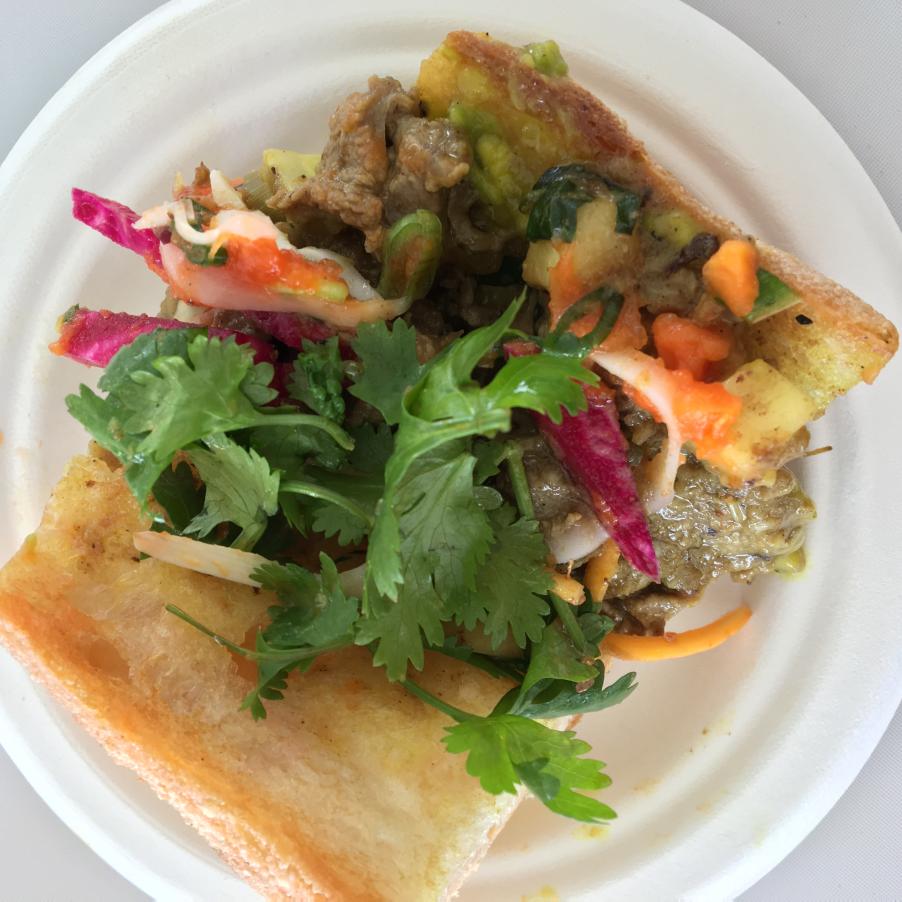 No picture of paradise is complete without a tall and slender coconut tree. Of course, for early Hawaiian settlers, the coconut tree was more a symbol of survival than a carefree oasis. The coconut seed, fruit, husk and palm provided islanders with the raw materials to make clothing, thatched housing, furniture, baskets, brooms, musical instruments, soap and shampoo. And while many of these uses have gone by the wayside, the coconut continues, thousands of years later, to be regarded as a trendy and delicious food. We might no longer be keen to shimmy up the trunk of a 70-foot tree to claim our next drink, but we enthusiastically consume coconut water by the boxful and order up coconut milk lattes from Starbucks like they're going out of style.
On Kauai this month, a celebration of this enduring Polynesian food staple took shape in the form of a cook-off. Drawing eight of the Garden Isle's top chefs under a single tent at Kapaa Beach Park, the October 1 event was part of the Kapaa Business Association's 20th annual Coconut Festival. Tasting Kauai, which hosts weekly food tours and a farmers' market class, was the event sponsor.
The competition went like this: With an hour on the clock, chefs from island eateries including Oasis on the Beach, Kauai Beer Company and Hanai Market worked in pairs to create unique and tasty foods in which coconut is featured as a star ingredient. The teams, paired together at random, were given access to fresh coconut, as well as coconut cream, milk, water and sprouts, plus a bounty of other locally harvested ingredients, from shrimp and venison to cranberry beans and sugarcane stalks. At the end of the hour, the four teams presented their creations to a panel of judges, which included celebrity chef and Pacific Rim cuisine pioneer Sam Choy.

Drawing from a plentiful spread of donated meats, seafood and produce, the chefs concocted meals as diverse as their culinary backgrounds. There was a Vietnamese-style baguette filled with coconut-braised lamb, cilantro and green papaya. Another team crafted plates of slightly spicy bok choy, bacon and coconut salad served over wedges of kalo (taro)—a masterpiece bursting with one-of-a-kind flavors.
But it was the plate of shrimp and coconut-infused grits topped with a sugarloaf pineapple and coconut sugar salsa that earned the highest scores during two rounds of competition. Rodman Machado of Kauai Beach Resort and Thomas Fuquay of Nom Breakfast & Burgers—the shrimp and grits' innovative creators—took home the top prize. Creativity, quick thinking and, no doubt, culinary expertise, proved to be the winningest traits of the day.