Construction begins on new Arizona Memorial visitor center at Pearl Harbor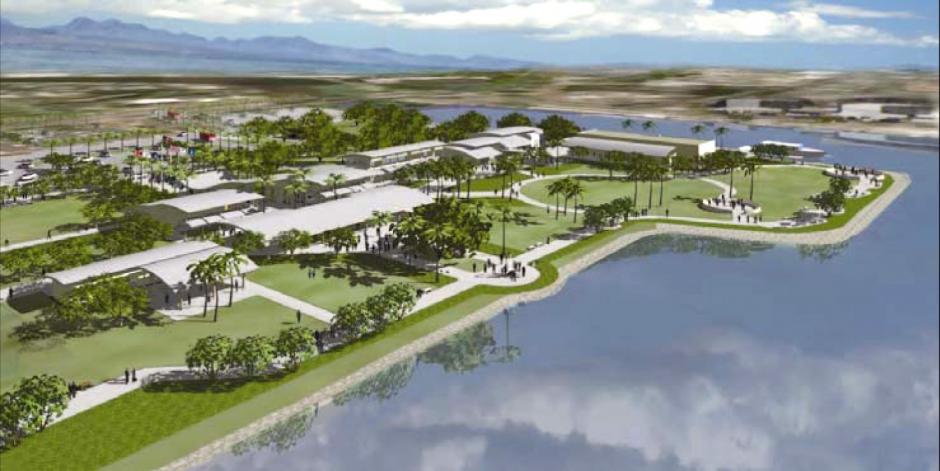 One of Hawaii's most visited military historical sites is getting a facelift.
Preliminary construction has begun on a new 17,750 square-foot USS Arizona Memorial visitor center at Pearl Harbor. The $58 million project includes other additions and landscaping changes to the visitor center grounds. The world famous edifice of the Alfred Preis-designed memorial, constructed above the sunken hull of the battleship in Pearl Harbor, is not part of the renovation.
The current 29-year old visitor center (pictured below) will remain open during construction.
In the coming weeks, octagonal shaped pillars, or piles—each 125 to 200 feet long and 16.5 inches around—will be driven into the ground to serve as the foundation for buildings and other structures. The bulk of this first-phase structural work will take place weekdays from 7 a.m. to 3:30 p.m. from April 30 to May 27.
Everything at the Pearl Harbor Historic Site will remain business as usual with tours and boats running as scheduled. You should, however, plan accordingly as traffic in the area will likely increase.
When completed in early 2010, the new visitor complex will house interactive exhibits, a renovated concession area and restrooms better accommodating the 1.5 million people visiting the Arizona Memorial annually. Additional site improvements will include more walkways, security walls, and new landscaping and parking.
Phase two of the project begins soon after, with the demolition of the existing visitor center and construction of new pavilions. The estimated completion date for the entire project is September 2010.
A formal opening ceremony for the new visitor center is being planned for December 7, 2010—the 69th anniversary of the Pearl Harbor attack.
Click here to view a photo slideshow by HAWAII Magazine associate editor Sherie Char of a recent visit to the USS Arizona Memorial.