Continental Airlines offering Hawaii round-trip deals from coast-to-coast Mainland cities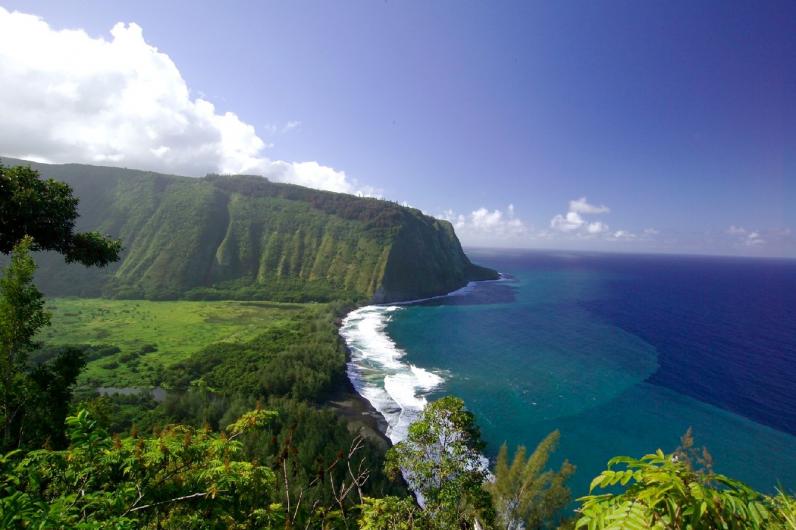 Continental Airlines is offering round-trip airfare deals to the Islands from more than 20 Mainland cities through a sale dubbed Tropical breezes of Hawaii. Flights touch down on Oahu, Maui, Kauai and the Big Island.
The special offer, which took effect this morning, includes roundtrip fares as low as $422 from Los Angeles to Hilo. Additional taxes, applicable bag charges and other fees may be added to the fares, of course. For additional details about the offer, click here.
Autumn's winds may be weeks, or even months, away throughout much of the Mainland. Still, if the idea of swapping a brisk chill for a tropical breeze sounds appealing, check out some of the deals that will take you to Oahu, Kauai, Maui and the Big Island (pictured, right).
Round-trip flights to Honolulu (Oahu) … from
• Atlanta — $800
• Austin, Texas — $720
• Chicago — $711
• Cleveland — $820
• Columbus, Ohio — $840
• Dallas, — $682 TX
• Dallas/Fort Worth, —$682
• Denver — $650
• Houston, — $707
• Kansas City, Mo. — $800
• Los Angeles — $462
• McAllen, Texas — $805
• New York, N.Y. — $849
• New York/Newark, N.J. — $747
• Oklahoma City, Okla. — $800
• Omaha, Neb. — $800
• Orange County, Calif. — $523
• Orlando, Fla. — $760
• San Antonio, Texas — $770
• San Francisco — $552
Round-trip flights to Hilo (Big Island) … from
• Baltimore — $770
• Boston — $751
• Chicago — $660
• Cleveland — $760
• Denver — $610
•Houston — $680
•Los Angeles — $422
•New York/Newark — $792
•Orlando — $700
•San Francisco — $540
•Tampa/St. Petersburg, Fla. — $ 795
•Washington, D.C. — $874
Round-trip flights to Kona (Big Island) …from
• Los Angeles — $536
Round-trip flights to Maui … from
• Denver — $741
• Houston — $702
• Los Angeles — $536
• McAllen, Texas — $881
• New York, N.Y. — $959
• New York/Newark, N.J — $824
• Orange County, Calif. — $597
• San Francisco — $626
Round-trip flight to Kauai (Lihue) … from
• San Francisco — $626