Cooking Channel's "Eat Street" on Oahu this week, focusing on food-truck fusion fare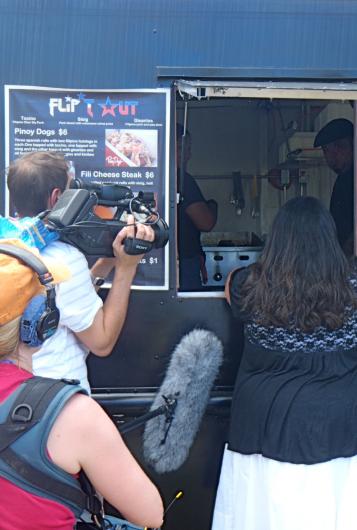 Cooking Channel's Eat Street, which spotlights innovative curbside eats, is filming on Oahu this week. The stars? The island's food-truck fusion fare — shoyu chicken tacos to adobo french fries. There's also soul food and traditional Thai, both served up with local-style twists.
During lunchtime today, as television show's cameras focused Flipt Out Eats, a fusion Filipino-American food truck, Eat Street director, Keero Birla, said his crew is excited to document a bit of Oahu's rapidly growing street food scene.
Compared to some Mainland cities, such as Los Angeles and Portland, Ore., where the mobile meals trend took shape about six years ago and hundreds of food trucks are now thriving, Honolulu is in its "infancy" stage, Birla said. However, given Hawaii's multicultural cuisine and penchant for plate lunch, Oahu has the potential to become a curbside-eats Mecca.
"We want to be part of the wave" that sees the food-truck trend evolve in Hawaii, Birla said, noting that he's already looking forward to returning to the Islands to track the foodie trend.
Flipt Out Eats (pictured, above) is among about a half-dozen food trucks that line up along a park in the Kakaako area at midday on Tuesdays. Today, its operators were serving Pinoy Dogs —Filipino-style hotdogs topped with tocino (Filipino char siu pork), sisig (pork lacked with calamansi citrus juice) and gisantes (Filipino pork-and-pea stew), Fili Cheese Steak, and french fries dusted with adobo spices (pictured, below). For anyone with room for dessert, there was a banana-split lumpia and ice candy — ice pops studded with bits of coconut or fruit, such as pineapple, lychee or tangerine.
Eat Street is headed to the North Shore tomorrow, Wed., June 22 for a taste of popular curries and noodles served at Opal Thai, a Haleiwa-based food truck. On Thurs., June. 23, the crew will be back in the Honolulu area (near Beretania and Alakea streets) to sample Soul Patrol, which specializes in Southern-style eats but makes and effort to cook with locally grown and produced ingredients. The film crew started shooting yesterday, at Camille's on Wheels in Kailua, which is known for fusion tacos combining Mexican, American and Asian flavors.
The Oahu episode's broadcast has yet to be scheduled. We'll keep you posted. If you're on Oahu, the Eat Street crew invites you to check out the curbside lunchtime offerings. Oh, and if you happen to be in the Honolulu area this Friday evening, June 24, with no dinner plans, we suggest checking out Eat The Street, a monthly food-truck rally that be under way in the near-downtown Honolulu Kakaako neighborhood, 555 South St., from 4 p.m. to 9 p.m.
The event's organizer, Poni Askew, said Eat The Street, — now in its sixth month — is drawing up to 3,000 hungry diners. So, you may want to arrive early. In keeping with this month's theme, "Pig Out!," dozens of food trucks and other vendors will be serving at least one pork dish. For more information about Eat The Street and its food-truck participants, click here.