Countdown to Kalalau: Camping and prepping at Malaekahana Campground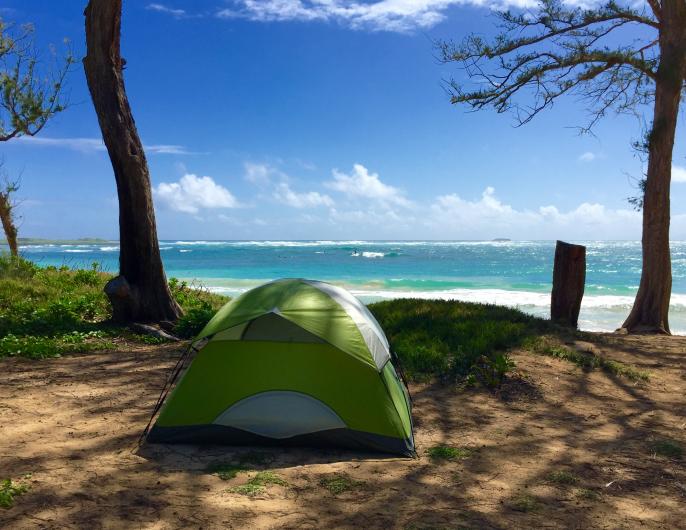 In the middle of the night, HAWAI'I magazine editor Christine Hitt and I awoke to a torrential downpour. We had already been braving boisterous winds lashing down. Normally, this weather wouldn't faze us. But tonight we're camping in a small tent in Malaekahana Beach Campground in Laie on Oahu's North Shore.
The rain stopped about 20 minutes later; the wind, however, never let up. But it could have kept pouring: Our tent and its rain fly kept us completely dry. Instead of dealing with a soggy tent and gear, we went back to sleep. The next morning, the sun came out and we enjoyed the beach and the well-kept campground.
We wanted to test our tent before we leave next month for Kauai to hike 11 miles along the Na Pali coast to Kalalau Valley, after all, it rains a lot on the Garden Island, and Malaekahana Beach Campground seemed like a good spot. Even better, it's right along the beach.
Christine and I, along with our two friends and Kalalau Trail buddies, have been hiking every week to prepare for the intense journey. To get a better feel for hiking with backpacks weighing 25 to 35 pounds, we loaded up our gear—tent, sleeping bag, clothes, rain gear, water and more—and hiked the 2.5 mile Maakua Ridge Trail in Hauula, about 5 miles from the campsite.
Maauka Ridge Trail is a short and sweet loop trail. The trail starts in hau forest and descends further into the valley before switchbacks take you up the ridge. At the top, there are vistas of Hauula and the forever rolling waves beyond the small community. It was a good practice hike with our semi-loaded backpacks.
Afterwards, we set up camp, just in time to watch to the sun dip into the sea creating a technicolor Malaekahana sunset. We grilled teriyaki beef and finished the night with s'mores over a small, but roaring campfire. It was a good dry (turned rainy) run for next month.
To get to the ridge trail, take Kamehameha Highway at Hauula. Turn left onto Hauula Homestead Road (it's across from Hauula Beach Park). Park in the neighborhood; the trailhead begins on the left at the end of the road just past the metal gate.