Countdown to Kalalau: When should you plan to hike the 11 miles?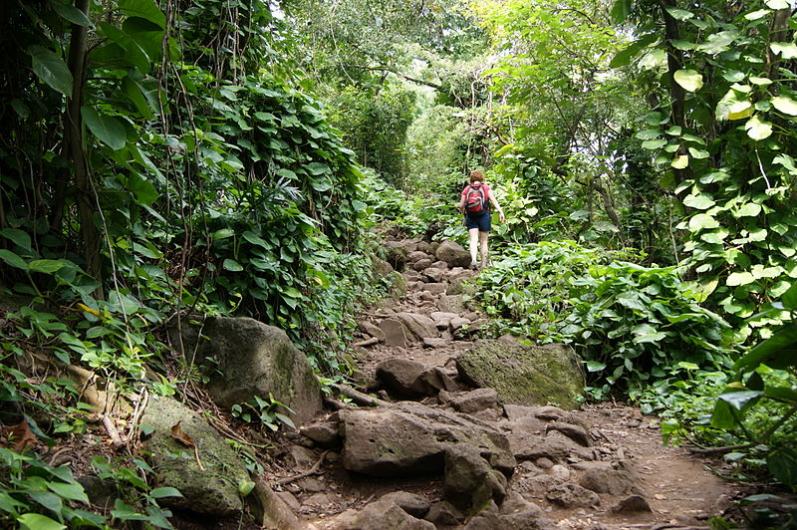 This is the week my friends and I had originally decided to backpack to Kalalau Beach, but, to make a long story short, we changed the date to May.
Winter in Hawaii (November to April) is rainy season, so we made a decision a month ago to move our hike to summer (May to October) when it would hopefully have less of a chance of rain. It's easy for us to do this because we live in Hawaii. But, if you are planning a trip to Kauai to hike this trail, then I'd recommend you do the same for the best experience and for safety's sake.
The benefits of hiking the 11 miles to Kalalau in the summer are numerous:
There's less risk of flash flooding and being confronted by swollen streams too dangerous to cross. (This is where most hikers get into trouble, and it's a risk we'd prefer not to face.)
It's more picturesque. In the winter, the rough surf takes the sand from Hanakapiai Beach out to sea leaving nothing but boulders on the beach. At Kalalau, the ocean reduces the size of the beach in winter too. And the high surf will make it unlikely to see the caves along the beaches.
Less of a chance of hiking through rain and mud. Also minimizes the chance of arriving to a closed trailhead due to wet weather.
Of course, no one can predict what the weather will be like on the day we have planned. As I'm writing this in the beginning of January, the skies are a bright blue, and there hasn't been a cloud all day. And, last summer, hurricane season (June to November) brought more rain to the Islands than usual. But, my friends and I will take our chances on our new scheduled date and hope for the best.