Dalai Lama in Hawaii this weekend. Talks to be streamed live online.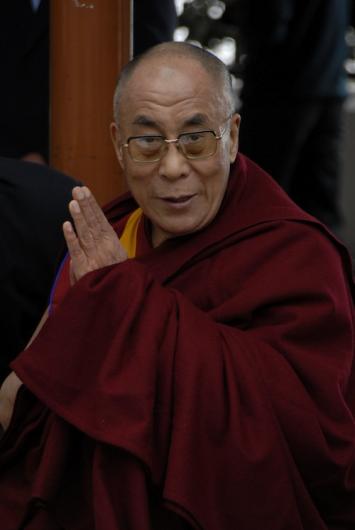 The 14th Dalai Lama of Tibet, Tenzin Gyatso, is touching down on Oahu this week to give public talks, take part in a panel discussion about "native cultures" with Native Hawaiians, and visit cultural and historic sites on the island.
The nonprofit Hawaii Community Foundation (HCF) announced earlier this week that three Pillars of Peace Hawaii events featuring the Dalai Lama will be available for viewing via live stream. The events offered online include a talk tailored for students, a general public address, and the panel discussion, which will also feature including Pualani Kanahele (kumu hula and director of Hawaiian Traditional Knowledge Research, Hawaii Community College) and Nainoa Thompson (executive director of the Polynesian Voyaging Society and member of University of Hawaii's Board of Regents).
In a news release issued by organizers of the Dalai Lama's three-day visit (April 14-16), Kelvin Taketa, president and CEO of the Hawaii Community Foundation, said: "We will be streaming select events in real time so that people in Hawaii and around the world have the opportunity to experience these extraordinary events as they unfold."
Here's the lineup of talks to be offered online.
• Educating the Heart — Live stream starts at 11:45 a.m. Hawaii time (Hawaii-Aleutian Standard Time, HAST). The Dalai Lama's talk starts at 1:30 p.m. HAST. The talk — tailored for high school and college students — will focus on the importance of practicing tolerance, perseverance and persistence in everyday life. The event will also feature musical performances with messages on peace from Jack Johnson, Taimane Gardner, Anuhea Jenkins and other Hawaii musicians.
Very limited tickets for the Student Talk may still be available. For additional information about tickets, contact the University of Hawaii Stan Sheriff Center Box Office at 808-956-4482.
• The Importance of Native Intelligence in Modern Times —
Live stream and panel starts: 9:45 a.m. HAST on Sun., April 15. Panelists will consider the positive contributions of wisdom found in Hawaiian and other native cultures and explore Hawaii's potential for global leadership. This event is available to the general public only via the live webcast.
• Advancing Peace through the Power of Aloha — Live stream starts 11:45 a.m. HAST; and the 
Dalai Lama's talk, 1:30 p.m. HAST. His Holiness will speak to the general public about the role of peace and compassion in daily life and encourage future community discussion and dialogue. The event will include musical performances with messages on peace from Michael McDonald, Amy Hanaialii and Henry Kapono and others. Tickets for this talk are no longer available.
The Dalai Lama's visit marks the launch of a new Hawaii Community Foundation initiative titled Pillars of Peace Hawaii: Building Peace on a Foundation of Aloha. The program, supported by the Omidyar Ohana Fund, aims to bring global peace leaders to Hawaii to exchange ideas about forms of peace that exist here at home in Hawaii and around the world. The Dalai Lama is visiting Oahu at the invitation of Pierre and Pam Omidyar. Support is being provided by a lead grant from the Omidyar Ohana Fund in addition to other partners providing in-kind and cash donations.
For more information about the Dalai Lama's visit to Oahu, click here or call 1-855-PEACE00 (1-855-732- 2300).