Dining at the celebrated Maui classic, Mama's Fish House
Synonymous with fine dining on Maui, Mama's Fish House knows quality seafood cuisine.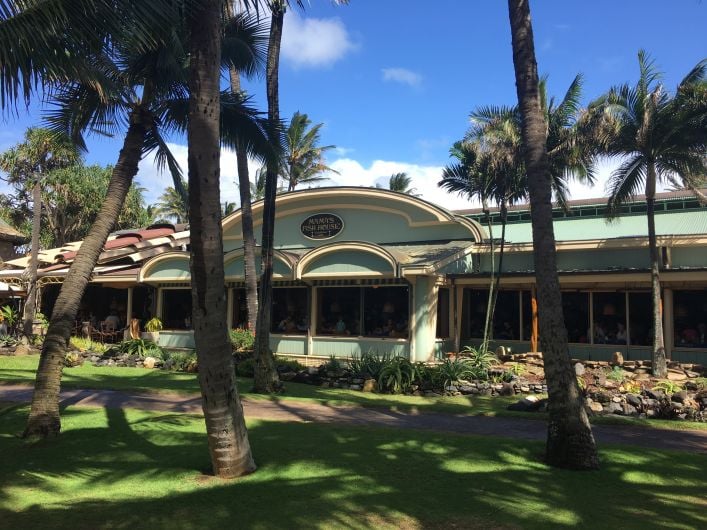 When describing Mama's Fish House, calling the seafood eatery a Maui icon would almost be an understatement. Family owned and operated since 1973, the Paia restaurant has won numerous accolades, such as placing eighth on TripAdvisor's list of the top 10 fine dining restaurants in America and being recognized as a James Beard Award semifinalist in the outstanding restaurant category. And so, after finally securing a table for myself, I'm excited to taste what exactly makes Mama's Fish House so special.
Although the restaurant is easily considered fine dining, probably some of the finest on Maui, waitresses are clad in muumuu and waiters don colorful aloha shirts. Much of the indoor decor features beautiful hardwood designs and the colorful tablecloths and rattan chairs give off a relaxing country vibe. Following the sea breeze that keeps the restaurant cool, I turn toward the ocean and gaze out at the green lawn, the palm trees and the golden beach that fronts the property. The scene is straight out of a tropical paradise postcard.
As gorgeous as the view is, it can wait. My appetizer has arrived. Starting with the grilled hee (octopus) was a great choice, as each bite has a bountiful amount of flavor without being too filling, the perfect combination for a pupu (appetizer). The grilled texture of the octopus gives each piece a chewy toughness, while the meaty innards are seasoned well with salt and vinegar. The addition of pickled daikon and sliced avocado set beneath the hee adds a creamy mix to the crunchy app.
When it comes to entrée choices at Mama's Fish House, it's hard to go wrong with any of the premium seafood options. However, what I'd heard time and time again, is that Mama's Stuffed Fish, the restaurant's signature plate, is a must. Adding a twist to this classic dish, my waitress informs me that the kitchen is using kanpachi, a premium member of the amberjack family, instead of the traditional mahimahi.
Any doubts I have about this switch are immediately rectified as the meal lands on my table. Elegantly presented, I almost feel guilty digging into this seafood medley, but the thick, perfectly buttered lobster tail sitting atop my kanpachi is just too inviting. The actual stuffed kanpachi, which is enveloped in a macadamia nut crust, delights with every bite, filling my mouth with chunks of lobster and crab. The sweet tartar sauce that the stuffed fish swims in also serves as a welcome addition, and before I know it, I'm soaking up every last morsel of juices and sauce with my complimentary loaf of bread.
Humming along to the sweet Hawaiian tunes emitting from the dining room's speakers, I'm patiently awaiting the crown jewel of my meal. Or really, the crown pearl. The Polynesian Black Pearl, which draws longing stares from other diners as it arrives at my table, is a fitting end to my extravagant meal. A decadent dark chocolate mousse serves as the pearl and covers a sweet, slightly tart lilikoi (passion fruit) cream center. All of this is encased between two wafer clamshells. And the dessert tastes as good as it looks.
My meal is over and I'm feeling more stuffed than the kanpachi I'd just eaten. Waiting for my check, once again I gaze out toward the restaurant's up-close and personal ocean view, and I realize why Mama's Fish House is so highly regarded. From the food to the service to the very view I'm looking at now, every aspect of my meal couldn't have been better.
799 Poho Place, Paia, (808) 579-8488, mamasfishhouse.com.