Discover a Craft Beer Lover's Haven on Maui at The Pint & Cork
Beer aficionados need look no further than this chill gastropub at The Shops at Wailea.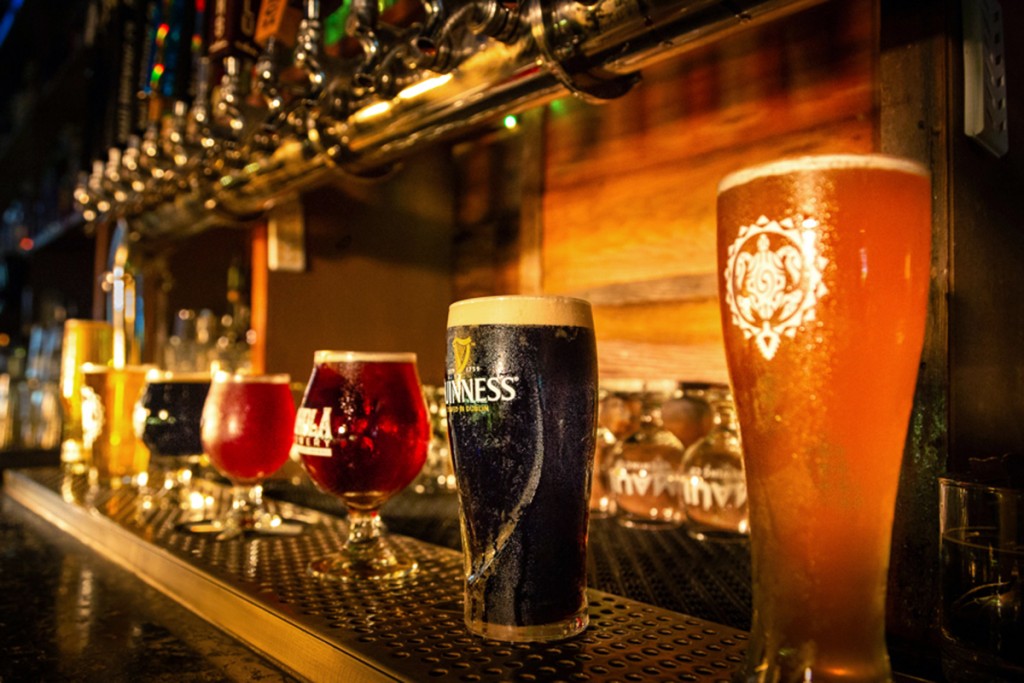 Of the 16 rotating craft beers offered at The Pint & Cork in Kihei on Maui, over a dozen are local varieties crafted in Hawaii. Recent popular offerings include Honolulu Beerworks' Pia Mahiai Honey Citrus Saison, a Belgian-style farmhouse ale brewed with locally grown oranges, lemons and Big Island honey; Aloha Beer Co.'s Hop Lei IPA, a San Diego-inspired pale ale with a savory bitterness; and the refreshing Craft Light lager by Waikiki Brewing Co., crafted with Mexican lager yeast, saaz hops and flaked corn.
These are beers brewed here in the Islands, many of them using local ingredients, some of them earning widespread recognition—such as Maui Brewing Co.'s Imperial Coconut Porter, which won gold in the field beer category at the 2016 Great American Beer Fest; and Kohola Brewery's Lahaina Haze, whose malt flavors brought top honors at this year's Hawaii Craft Beer Awards.
A commitment to locally raised and crafted flavors is the priority at The Pint & Cork, located in the luxury wing of The Shops at Wailea. In just four years this gastropub has earned a good reputation in the Valley Isle's food and beverage scene, earning accolades including Maui Magazine's silver Aipono award in 2019 for best late-night dining as well as a spot on The Pride of Maui's list of "The Top 33 Restaurants on Maui."
"This place is designed for people to come in, enjoy delicious food and drinks, and feel like they're at home," says the restaurant's managing partner, Scott Pacer. "We've got the game on and a wide beverage selection to suit all tastes. There's always something new here because The Pint & Cork keeps evolving."
Behind the scenes, certified cicerone Ryan Kobel runs the beverage program at The Pint & Cork, where he maintains a close connection with local breweries to offer the latest beer releases. Kobel collaborates with the gastropub's chefs to create flavor pairings for the culinary and mixology selections, and helps ensure perfect pours every time. The Pint & Cork also features a specialty barrel-aging program, where previous whiskey and tequila barrels—the gastropub boasts 200-plus whiskeys, tequilas, mezcals and more—are filled with local craft beer to create one-of-a-kind original brews.
"At the bar, it's about having that conversation with the customer. What flavors do they like? From there, we can point them in the right direction with specific beers or cocktails," says Pacer. "Beer drinking today has become as specialized as choosing specific wines or fine spirits. Some people like pale ales, others enjoy pilsners or porters. Here, we can cater to all different types."
Whether guests are coming in to watch sports and enjoy a pint on the weekends, or to share pupu and cocktails while taking a break from shopping, the gastropub prides itself on having one of the widest selections of locally brewed beer in Hawaii. This, plus a diverse menu and comfortable atmosphere, makes The Pint & Cork the ideal destination for guests looking for a unique dining experience on Maui.