Discover Peace and a Unique Slice of History at this Quiet Upcountry Park
Sun Yat-Sen Memorial Park in Keokea is off the beaten path, but worth the venture.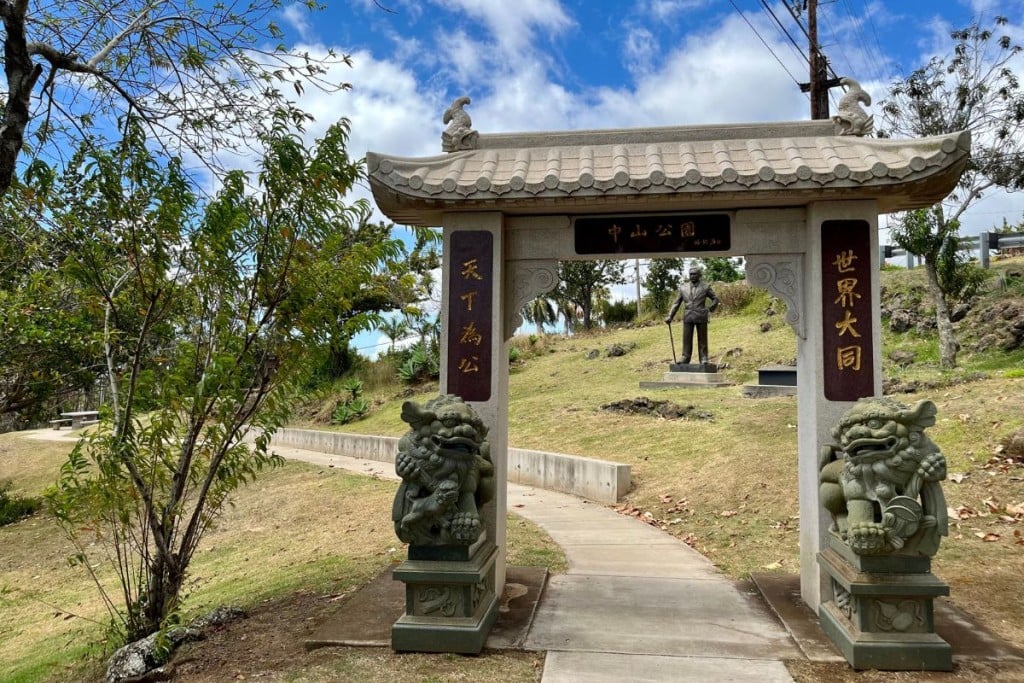 Sprawling green hills, fields of lavender, vibrant jacaranda trees and panoramic views are all trademarks of Upcountry, Maui. But those that venture a little further passed Kula Country Farms and Grandma's Coffee House will find Sun Yat-Sen Memorial Park in Keokea. Here, all the splendors of Upcountry and more can be enjoyed.
Resting high on the slopes of Haleakalā, this little park is often driven right by on the way to the island's winery. With few people, this park is an idyllic place to rest, set up a picnic, or just take in the vistas of the Valley Isle in solitude. It also recognizes a little-known connection between Maui and the Chinese Revolution of 1911.
Named after Dr. Sun Yat-Sen, the park commemorates the influential work and philosophies of the first provisional president of the Republic of China. Sun Yat-Sen played a pivotal role in the overthrow of the Qing Dynasty and the establishment of the Chinese Republic in 1912. But before he was a revolutionary leader, he was a schoolchild in Honolulu.
Sun Yat-Sen was born in 1866 in Guangdong, a southern province in China. In 1871, his older brother Sun Mei moved to Hawaiʻi. Sun Mei became a rice merchant and shopkeeper on Oʻahu. After a few years of working and saving money, Sun Mei brought 13-year-old Sun Yat-Sen over to the Islands. Sun Yat-Sen enrolled at ʻIolani School and Oʻahu College, which later became Punahou School. It was here in Honolulu that Sun Yat-Sen was exposed to cultures, constitutions and philosophies from around the world. It helped to set the foundation for his democratic ideology.
According to plaques at the park, Sun Mei eventually moved to Maui in 1881. He opened the Kahului General Store and leased thousands of acres to establish the Sun Mei Ranch.
While Sun Mei moved to Maui, Sun Yat-Sen returned to China to continue his education and eventually became a doctor in Hong Kong. However, Sun Yat-Sen was deeply frustrated with the corrupt rule of the Qing dynasty. As a result, he organized a revolutionary group and led the first uprising in Guangzhou. But the uprising failed in 1895 and sent Sun Yat-Sen into exile. Sun Yat-Sen and his family moved to Sun Mei's property on Maui.
After the failed uprising, Sun Yat-Sen made several trips around the world in an attempt to garner support for his revolution between 1895-1911. He ultimately organized 10 failed uprisings. Nonetheless, during the years of tribulations and exile, Sun Mei's ranch in Kula offered refuge.
But in 1911, Sun Yat-Sen's efforts finally prevailed. The Xinhai Revolution brought down the corrupt Qing Dynasty and with it, the two-thousand-year-old imperial system. Sun Yat-Sen and a group of revolutionaries established the Republic of China, the first-modern republic in Asia. And throughout the failed uprising and revolutions, Sun Mei remained one of Sun Yat-Sen's greatest supporters.
A stone archway marks the entrance of this peaceful and interesting park. Inside, statues along a pathway commemorate the work of Sun Yat-Sen and Sun Mei. Along with the brothers, there are beautiful statues of Chinese dragons and picnic benches. Despite being small, the park stretches over green hills and offers beautiful views of Kīhei, Wailea and neighboring islands. It's a tranquil area to take in the crips Upcountry air and discover the influential link between Maui and the Chinese Revolution of 1911.
Sun Yat-Sen Park, 13434 Kula Hwy., Kula. The gates to the parking lot are open from 7 a.m-7 p.m. and there are no restrooms at the park.