Disney Aulani Resort Hawaii: We take the first "hard hat" tour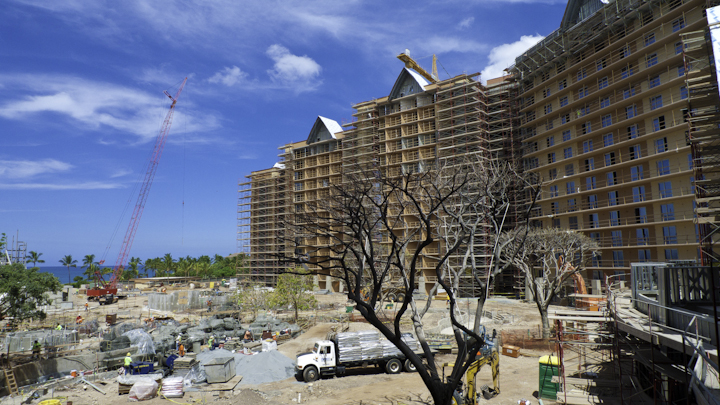 The new Disney Aulani Resort & Spa Hawaii is up. Not finished, it's still a busy construction site. But the cement has been poured, the main buildings are up, and Disney just hosted its first "hard hat" tour of the Ko Olina, Oahu, property.
HAWAII Magazine was there to bring you this first look.
The first thing we asked the property's general manager, Disney Resorts Hawaii vice president Djuan Rivers (pictured, right), was when it would be finished. "We're going to finish it a third at a time," he said.
Here's the schedule:
• August 29, 2011: 200 hotel rooms and 73 Disney Vacation Club 2-bedroom units will open. Disney is already taking reservations.
• End of year, 2011: Another 130 rooms and 134 Vacation Club units will open.
• Some time in 2013: The remaining 274 Vacation Club units open.
Disney took this hard hat tour seriously. A number of major Disney executives flew in to address the group, including Tom Staggs, chairman of of Walt Disney Parks and Resorts, and Jim Lewis, president of Disney Vacation Club.
(Disney Vacation Club is Disney's version of time-share, which sells memberships instead of individual units.)
The most compelling speaker—and the man who lead the tour of the property—was Joe Rohde, a senior member of Disney's "Imaginarium." It was Rohde who helped create, and was there to explain, the vision behind the resort.
Just how is Disney going to fit into Hawaii? Read on.
---
Standing in the arched lobby of the resort (pictured, left), still without its wood, glass, murals and sculptures, Rohde talked about how Disney didn't just build buildings, it told stories.
"Aulani is different because it's unlike anything Disney has done before," said Rohde.
In Hawaiian, the word Aulani means "messenger, someone who speaks on behalf of a higher authority." To Rohde, who spent part of his childhood in the Islands, Aulani was a gateway for Disney's visitors into "a real story, created and guided by Hawaii."
Therefore Disney wasn't going to present a Disney-fied version of Old Hawaii. "It's a living place, a living culture, that has a past, a present and future." He talked about the contemporary Hawaiian artists—like muralist Solomon Enos and sculptor Rocky Jensen—who would set the tone for the lobby.
"Hawaiian art has always been highly refined, almost modern and minimalist in its elegance. It doesn't jump out at you all at once, and the details of the resort are meant to be understood over time, as guests develop the desire to explore what Hawaii means to them."
Of course, he added, there would be touches of Disney magic. "Because that's what people expect of us."
For more on what the resort will be like, and more pictures, see next page.
We moved into the center of the resort. Between the two high-rise wings, Disney has created a "valley," like the valleys in the landscape that lead from Hawaii's mountains to the ocean.
Here the water flowing from the lobby downhill creates "Wai Kolohe," or "mischievous water" in Hawaiian, a series of pools and fun activities, mainly aimed at kids, filled with menehune, who provide an entry into Hawaiian concepts for kids, while at the same time squirting water at them.
The walled cement structure to the right will be a snorkel pool, filled with sea life. "So even if you're afraid to go into the ocean, this will be an introduction to the sea life of Hawaii," says Rohde.
Of course, this area will be turned into a garden. Some of the trees on the property remain and others are rescued from a local golf course.
The cement will be covered by "rocks" that Disney is carefully copying from actual rock formations around Oahu, especially the nearby Waianae Coast.
This central area will also hold Disney's beachside restaurant, which will created to look as if it's an old fishing family's shoreside dwelling. "We're going to make it look as if there were buildings already on the property that we just refurbished," says Rohde.
More on the resort, and photos, next page.

We went up a steel-cage construction elevator attached to the side of the building. ("This is the scary part," insisted Rohde. "Try not to think about how many job sites this elevator has been on.")
The reward for the ascent? The photo above is the view from the lanai of what will be an eighth floor room. None of the rooms are anywhere near finished, of course, no walls even, although in the small low-rise building in the bottom right of the photo, Disney has mocked up a couple of model rooms for demonstration purposes.
We also toured the main building, where there will eventually be a kid's center, named "Auntie's Beach House," complete with Disney "mongooses" running across the skylight.
The shell is up at the Makahiki buffet restaurant, which will have a lounge in which every object is labeled in Hawaiian and the entire staff will be able to speak Hawaiian as well as English.
Construction of the resort's 18,000-foot spa is also underway. None of these looks like anything more than concrete walls and loose connectors at this point.
Here are the renderings of each:

Finally we ended up in a sample room (pictured above). It looked like a pleasant enough hotel room, with the furniture pre-distressed so you didn't have to worry about what your kids might do to it.

Here are a couple of details to show you how subtly Disney has woven together its corporate culture with the resort's Hawaii themes. This is the Hawaiian quilt pattern on the bed. Can you pick out the Disney touch in this close-up?

And just in case you thought there'd be no Disney anywhere. This was our favorite thing, a wooden Surfer Mickey lamp, available no doubt in the gift shop.