Disney stages Aulani resort's grand opening with mixing of Hawaii sand, pixie dust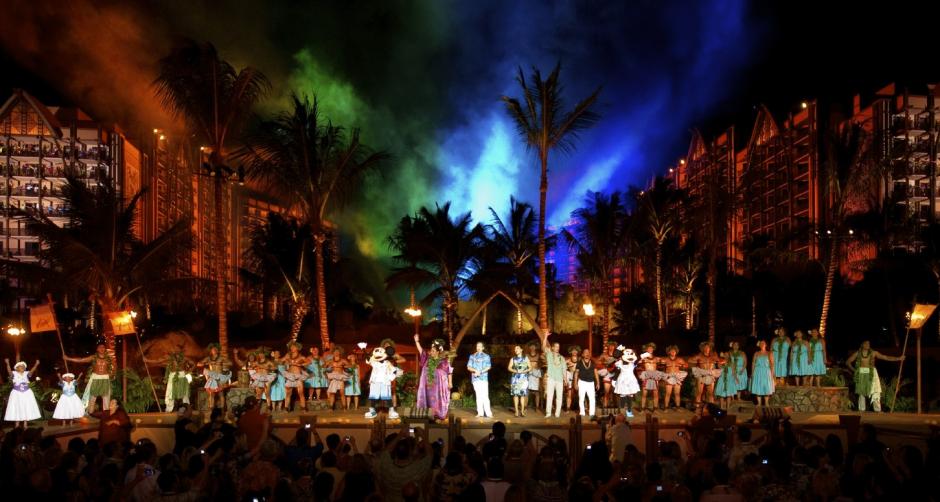 Aulani, the much-anticipated Disney resort and spa, recently staged its official sunset grand-opening event — complete with Hawaiian music, a dazzling light show, and a ceremonial mixing of sand with pixie dust (courtesy of Tinkerbell, perhaps?).
After three years of construction on Oahu's Leeward coast, Aulani, which bills itself as aiming to combine the "magic of Disney storytelling and guest service with the beauty and traditions of Hawaii," opened its first phase to guests on Aug. 29.
In a news release issued on the date of the grand opening (Sept. 22), Tom Staggs, chairman of Walt Disney Parks and Resorts, described the resort as a sort of gateway to the Hawaiian Islands. "Aulani captures the spirit of the islands and we look forward to welcoming guests from around the world to the magnificent shores of Oahu for many years to come," Staggs said.
Aulani — Disney's first Hawaii destination property — occupies 21 acres of beachside property in Ko Olina, adjacent to a nine-acre, man-made ocean lagoon. Ko Olina is 17 miles from Honolulu International Airport, about a 40-minute drive from Waikiki. When all phases are complete, Aulani will include 359 traditional hotel rooms and 481 two-bedroom equivalent Disney Vacation Club villas in two towers.
Aulani, in Hawaiian, means: "messenger of a chief— someone who speaks on behalf of a higher authority." (Disney officials say the resort "serves as a messenger of the Hawaiian spirit, people and culture.") "The name 'Aulani' expresses a connection to tradition and deep storytelling – and its roots are in this land right here," said Joe Rohde, senior vice president and creative executive, Walt Disney Imagineering, who led the design of the resort.
Among the resorts nods to Hawaiian authenticity: a restaurant lounge in which every object is labeled in Hawaiian and the staffers speak both Hawaiian and English.
While Aulani does not offer midway-style Disney rides, it does sport seven acres of water play areas. Aulani's Wai Kolohe, or "mischievous water" in Hawaiian, includes a series of waterslides, pools and plenty of activities for kids.
Among the other water-related highlights:
• Rainbow Reef snorkel lagoon — Guests may swim with native Hawaiian fish, including angelfish, butterfly fish and tangs in the 3,800-square-foot lagoon — the only one of its kind on Oahu.
• Makai Preserve conservation pool — Guests may stroke the velvety backs of gentle stingrays (available by reservation only). A portion of the proceeds from this activity will support research and conservation efforts in Hawaii through the Disney Worldwide Conservation Fund.
Aulani also will host big-group events. When all phases are complete, there will be nearly 50,000 square feet of meeting space, including a 14,545-square-foot conference center, main ballroom, four breakout rooms and pre-function space. Disney also has created three event lawns, one of which is an oceanfront wedding lawn. For more information about Aulani, click here.