Don't Shy Away from Hanalei
The beautiful Kauai town bounces back after a flood, attracting visitors once again.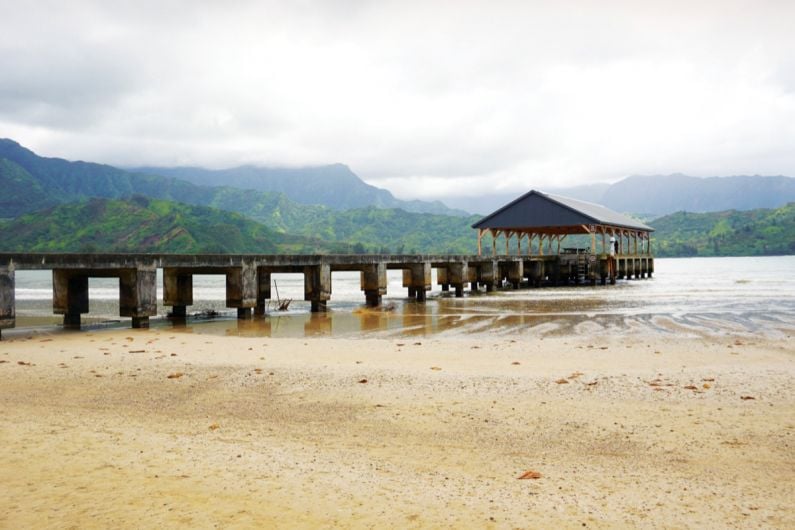 The sun is shining down on me as I order an açaí bowl from Wishing Well Shave Ice, a food truck situated right off the road at the beginning of Kauai's dreamy town of Hanalei. The north shore of Kauai was hit hard last April by record-breaking rains that resulted in flooding, but the line of people forming behind me is telling me that things are turning around.
People crowd the picnic tables nearby and take photos of their pretty shave ice bowls in the shade. Light traffic backs up on the main thoroughfare through town, and I see customers walking the streets, popping in and out of shops. Still, store owners tell me as they ring up my purchases, that it's not as busy as it was prior to the storm and they're hoping, for the sake of the entire north shore community, that business picks up.
Driving to Hanalei Bay, I park near Hanalei Beach Park and walk to what is arguably the most beautiful beach in Hawaii. The pier is still there, but erosion has transformed the land around it, and for folks out for a stroll, it isn't as accessible as it was before—it needs more time to heal. Hanalei Bay, however, is still a wide, long crescent beach, and on this day, sunbathers, swimmers and surfers are taking up every other corner of the place, from here to Waioli. The pier may no longer be the central point, but that doesn't seem to matter to the kids playing in the breaking waves or the couple taking selfies on the sand. It's a beautiful day and the waterfall tumbling down Mount Namolokama still serves as an unbelievable backdrop.
Waioli Huiia Church is the last stop before the end of the road, where north shore residents and Kauai County crews are continuing cleanup efforts from the next town of Wainiha all the way to Haena, where the Napali Coast Trail begins. It will be months to a year before conditions improve and nonresidents will be allowed to drive farther north, but the town of Hanalei has its arms, and doors, wide open for visitors who wish to stop in and show it some love and support.
For more information on how you can help with rebuilding efforts in Hanalei, see our story: How to help Kauai after the flood.