Dramatic new footage of Kilauea volcano crater floor collapsing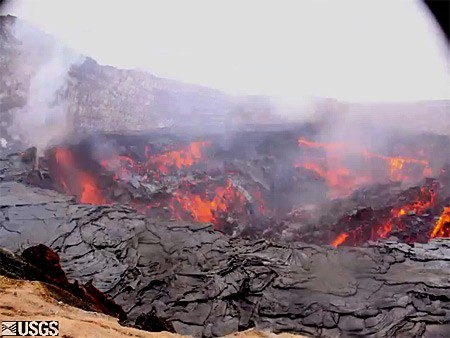 Geologists at the Big Island's Hawaiian Volcano Observatory yesterday released dramatic video of last weekend's collapse of the Puu Oo crater floor on Kilauea volcano.
The time-lapse video below, captured over 19 hours on Saturday, shows the Puu Oo crater floor dropping more than 377 feet. As the floor of the crater gives way, fiery rubble, lava and incandescent fractures can be seen in the gaping hole left behind.
The Puu Oo vent collapse event began at around 2:16 p.m. on Saturday, creating a large ash and fume cloud over the vent as magma withdrew from the disintegrating crater floor. At 5:15 p.m., HVO geologists discovered a freshly opened lava fissure in the Kamoamoa forest area about two miles west of Puu Oo, producing low-level lava fountains along a 535-yard long crack in the earth.
Lava activity at the Kamoamoa fissure has continued steadily since Saturday with lulls in activity occasionally punctuated by lava fountaining and spattering up to 160 feet into the air. The length of the fissure had extended to 1.4 miles as of Wednesday evening, with lava activity limited to its western end.
HVO geologists yesterday released the photos and video footage below, shot on Monday and Tuesday, of lava spattering activity at the new fissure:

The new Kamoamoa fissure, located between Puu Oo and Napau craters, is in a remote area of Hawaii Volcanoes National Park, now closed to the public.
Hawaiian Volcano Observatory geologists on Sunday set up a webcam offering live views of the new fissure eruption, refreshed every five minutes.
Access to Puu Oo is off limits to hikers. But activity at Halemaumau crater is visible to Hawaii Volcanoes National Park visitors from the Hawaiian Volcano Observatory's Thomas A. Jaggar Museum overlook, which is open 24 hours daily. Daily updates on Kilauea volcano activity are available at the Hawaiian Volcano Observatory website.