Dukes Lane and The Street give the food court an upscale makeover in Waikiki
These new eateries have become hubs for lively, communal dining experiences.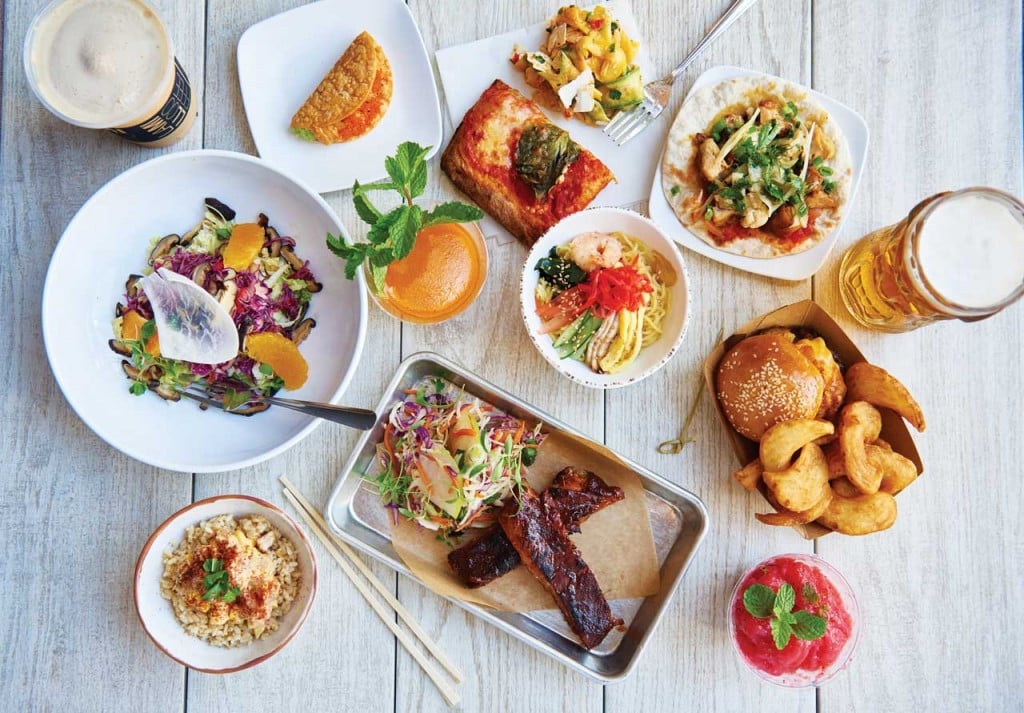 "Aloha" reads the black-and-white mosaic floor just through the double doors of Dukes Lane Market and Eatery.
It gives way to a lively, communal dining space where diners dig into tall, stacked burgers and Instagram their lilikoi (passion fruit) mochi doughnuts flecked with coconut. Dukes Lane is actually a collection of nine food stalls and markets, each with its own personality and specialty, such as Spitfire Rotisserie and Flatbread; Ono's Burger Bar; Chill, a bubble tea and gelato stand; The Vault, a wine and spirits shop; Bakery, specializing in fried dough, from malasadas to mochi doughnuts; and Market, a small grocery stocked with gourmet foods and fresh produce, much of it from Hawaii.
I'm starting the night with drinks and pupu (appetizers) at Basalt, the only sit-down, full-service restaurant and bar at Dukes, with 150 seats at the back of the space. I pick a spot at the bar and order a Manhattan made with kiawe-smoked bourbon, and pair it with items from Basalt's raw bar: a prawn cocktail and ahi poke, served on a bed of limu (seaweed), both fresh and satisfying.
But I feel a pang of envy when a server takes several charcuterie platters to the family sitting at the long table, and my gaze follows a silver basin of oysters on ice for the couple dining out in the patio section. Next time, the oysters from Kualoa Ranch, the only place in the state to sell Hawaii-grown oysters commercially, are a must, but for now I'm ready for the main course over at The Street in the new International Market Place.
The Street and Dukes Lane are part of the food hall craze infecting cities across the United States. Celebrity chef Mario Batali got in on the action a few years ago, helping to franchise Italy's Eataly in several American cities. So has Anthony Bourdain, who plans to open Bourdain's Market in New York City's Flatiron District.
The food hall, like the food court of the 1980s and '90s, offers customers many choices in a casual environment. However, if what made the food court great was having a selection of vendors cranking out orders with the speed of an assembly line, the food hall's greatness lies in its selection of vendors creating made-to-order gourmet dishes. The food court is dead. All hail the food hall!
For The Street, the International Market Place developers tapped chef and restaurateur Michael Mina, who has opened 30 restaurants across the U.S. and Dubai, to create a bustling communal space akin to the night markets and narrow streets of Tokyo, Istanbul and other cities with vibrant food cultures. He did his job: The Street is packed and bustles more than Dukes Lane. The conversations, live music and sounds of cooking make me feel at ease. Like Dukes Lane, each station has a personality; Mina worked with renowned chefs for each concept, which includes The Ramen Bar; Adam's Nana Lu, serving Italian-American dishes and pizza; Aloha Ice's shave ice by local pastry chef Michelle Karr-Ueoka, made using frozen fruit and layered with goodies such as tapioca and ice cream; and Mina's own Little Lafa, with Mediterranean-style flatbread and plates.
At The Myna Bird, a tiki bar kiosk, I ask the bartender for a mojito. He goes to work plucking mint sprigs from his counter garden, adding a dash of this, a pinch of that, a shake here, a scoop of ice there and voilà! A tricolor drink looking like the Mexican flag appears in front of me.
Instead of a mojito, he says the drink is his take on a Queen's Park Swizzle: mint, simple syrup, lime juice, white rum, bitters and a ton of ice. It's smooth and refreshing, and boozy as hell, but I don't feel it hit until I stand.
For dinner, I cross the space to International Smoke and order St. Louis-style barbecue ribs and jerk chicken, which are served on a stainless steel cafeteria tray. The ribs start sweet and finish spicy and the jerk chicken is moist on the inside. My sides include gooey, burnt-ends-topped mac and cheese that makes me want to weep, and a Brussels sprout salad with pieces of lap cheong (Chinese sausage) mixed in, an Asian twist on a Southern dish.
If the food offerings are one half of what makes up the food hall, the social atmosphere makes up the other half. The open layout encourages mingling and I can't help but think about Hawaii writer Lee Cataluna's book, The Folks You Meet in Longs and Other Stories. Though I'm in touristy Waikiki, Dukes Lane and The Street have lured locals into the space to enjoy the convivial atmosphere alongside visitors.
Dukes Lane Market and Eatery, 2255 Kuhio Ave., (808) 923-5689, dukeslanehawaii.com.
The Street, 2330 Kalakaua Ave., (808) 377-4402, thestreetsocialhouse.com.