East Kauai's Street Burger is the place to stop for flame grilled burgers
The tasty two-handers made with Garden Isle beef hit the spot.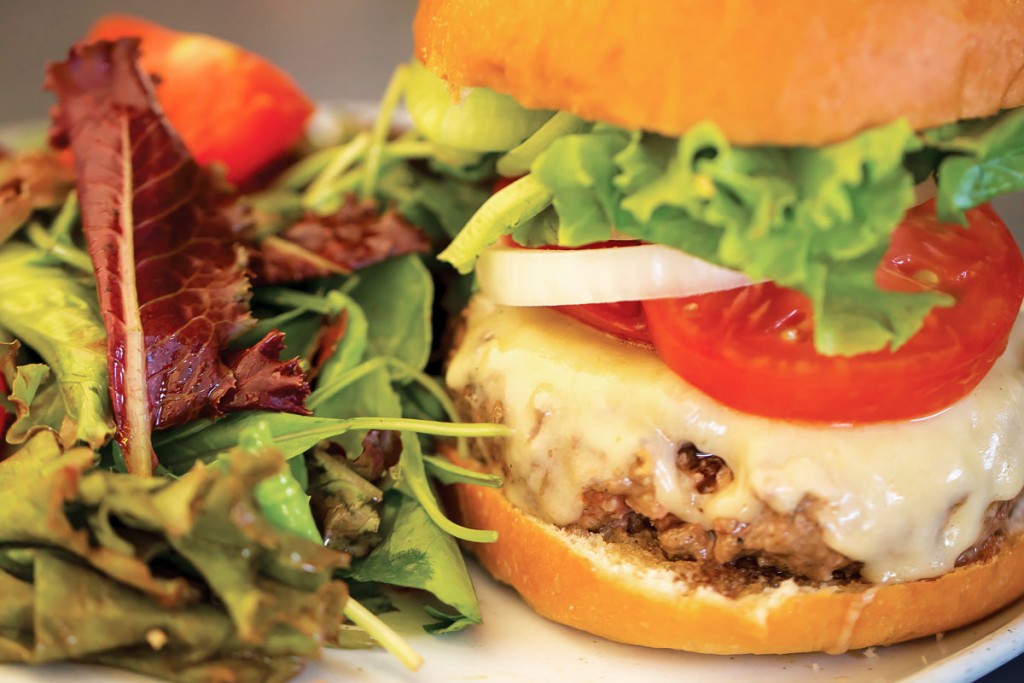 It's 3:30 p.m. and the lunch rush has finally slowed down, giving Aaron and Kristin Leikam a breather before the dinner crowd starts filing in. Husband and wife, the Leikams own Street Burger, a bustling neighborhood burger joint in Kapaa on Kauai's east side. The two have been working in the restaurant industry for nearly 20 years and made Kauai their home nine years ago. "When we were working in Maine, we started coming here on a yearly basis and one year when we were here on vacation we decided we didn't want to go back to the cold weather in Maine," says Aaron.
Owning a restaurant was always a goal of theirs, but burgers weren't the focus. "Because of our backgrounds, we always thought we'd do a fine-dining type of venue," says Aaron. He and Kristin worked in gourmet Seattle and Maine kitchens and Aaron was also the executive chef of Hukilau Lanai in Kapaa and 22 North (now Gaylord's). "A burger place was our retirement plan," he says. "This space became available and we thought, 'Oh, that'd make a good burger joint.'" So, they went with Plan B.
Fast forward to 2015 and the Leikams opened Street Burger. It's since become one of the most popular eateries in Kapaa, and this past summer, the Leikams expanded next door with the opening of Oyster 369, a cozy oyster and seafood bar. Aaron is the chef of both and Kristin manages front-of-house operations.
Street Burger offers a casual yet upscale experience. The interior is industrial but welcoming, a mix of finished hardwood and corrugated metal. About 80 percent of customers are kamaaina (longtime residents), a lot of them regulars. Some like to sit at the bar to watch their burgers being made on the open-flame grill, where Aaron uses local java plum, ironwood or kiawe wood. Others like the tables on the covered lanai (patio), which offer stellar views of Nounou Mountain, aka Sleeping Giant.
It's almost a requirement to arrive to Street Burger with an empty stomach. These are no thin, previously frozen patties, but rather 6-ounce grilled-to-order burgers made with natural grass-fed beef from Kauai cows of Makaweli Meat Co. on the island's southwest side. This is what makes Street Burger stand out. Aaron exclusively sources from Makaweli and gets 50 percent chuck, 25 percent sirloin and 25 percent brisket cuts. Street Burger serves about 600 pounds of beef a week, or 400 burgers. The restaurant also has partnerships with local farmers, fishers and bakers; its greens, tomatoes, cucumbers, citrus, herbs, chili peppers, ahi and buns are all grown, harvested or made on-island.
"I think it's important in whatever (community) you're in to source locally," says Aaron. "Things taste better when they're grown next door. You're able to get fully ripe ingredients and things that have the most robust flavor. It's supporting a community. To me, it's the right thing to do."
A Street Burger is made to be eaten with two hands, sauce dripping down your fingers with each juicy bite—plus, all those sauces, including the ketchup for the fries, are made in-house. There were five burgers on the menu when they opened, says Aaron. Today, Street Burger boasts 17 burgers, including a housemade veggie patty and a lamb burger made with meat from Niihau Ranch.
The burger menu features everything from the traditional—classic hamburger or cheeseburger—to the inventive. There's the Southern, topped with a fried green tomato, pimento cheese, local greens and buttermilk chive dressing, an homage to Aaron's roots. Kristin says her favorite is the Greek, with olive tapenade, feta, cucumber, tzatziki and spinach. One of the most popular burgers is the Frenchie. The patty is generously topped with caramelized onions, melted brie, local arugula and garlic aioli, which we can confidently say does not disappoint.
In addition to burgers, Street Burger also has pupu (appetizers), salads, an extensive beer selection and, thanks to Kristin's pastry background, an impressive dessert menu, which includes doughnut holes and the Street Burger S'more.
Aaron dons an apron and slips behind the grill. The restaurant is quickly filling up. He and staff efficiently move in the small space: flipping patties; plating them with fresh greens, sauces and cheese; salting the fresh-made fries. The break is over; it's going to be another busy evening.
Open Tuesdays through Saturdays, 11 a.m. to 10 p.m. Street Burger, 4-369 Kuhio Hwy., Kapaa, Kauai, (808) 212-1555, streetburgerkauai.com.