Eclectic dish and cocktail pairings abound in new Hawaii Island culinary series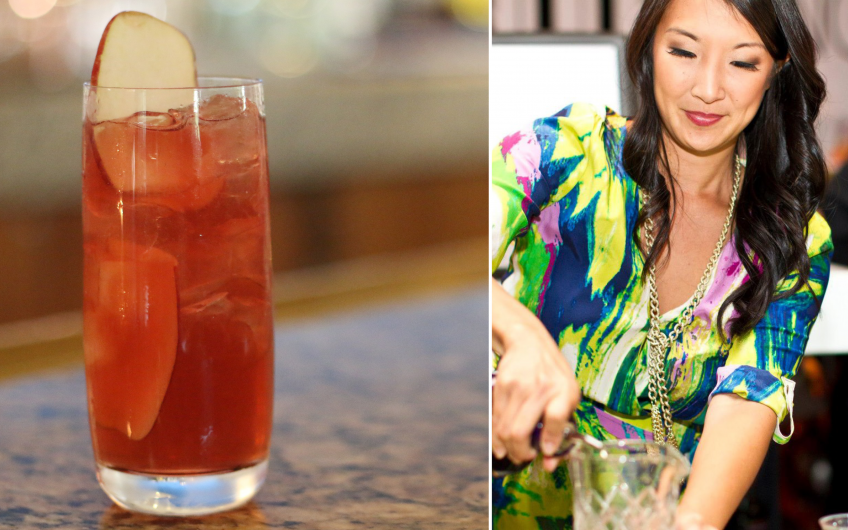 What's better than a gourmet dinner seaside at sunset? A gourmet dinner seaside at sunset that includes a cocktail pairing, perhaps.
Such an event, the "Dare to Pair, Spirited Dinner," launched last month at the Hapuna Beach Prince Hotel on Hawaii Island, and it was the first in what the property hopes will be a regular series going forward.
Set within the hotel's circular Coast Grill restaurant overlooking both the pool and the white sands of Hapuna Beach, the event included pupu, dessert and three thoughtfully crafted courses (each is themed) with a matching cocktail. Like an intimate dinner party, 20 diners received personal introductions to each item by their creators: The restaurants' executive chef, Chef Peter Abarcar, Jr., and star guest mixologist Chandra Lucariello of Southern Wine and Spirits.
The evening started off with great conversation and some Hawaiian Sun, a cocktail creation that included orange vodka, Italian aperol, orange juice and soda water. The drink paired nicely with two very different pupus—a mini ahi melt with Portuguese pickled onions, potato chips and a tiny Korean bowl of beef, kimchi and a fried quail egg. Though seemingly straightforward, the mini tuna melt was complicated and flavorful and paired with the orange drink, like a can of Hawaiian Sun, proved a powerful nostalgic combo. It my favorite coupling of the entire "garden-to-glass" event—fruits and garnishes are sourced on-site.
We moved to the tables as the sun was setting for the official first course. When Abarcar first tried the coconut rum and lime leaf cocktail to find the perfect food pairing, he related: "It made me not want to go back to work." To evoke an exotic tropical vacation, he matched it with a coconut red curry bowl with local seafood, ulu (breadfruit) and jasmine rice. The curry was flavorful, but the centerpiece prawn took some un-lady-like deconstruction to eat.
If I was setting myself up for a tropical vacation then, the second course took me straight to the dead of a mainland winter. A hearty Niihau lamb chop paired was paired with an apple whiskey, lemon, cranberry, bitters and ginger beer cocktail Lucariello called the "Big Island Apple." My favorite part of this course were the electric-colored sides: A fuchsia slab of dragon fruit and ginger infused mashed purple sweet potatoes sourced from Hilo.
After the lamb, we headed to our next themed locale … Mexico. OK, so it didn't exactly make the most logical sense, but I was still happy to imbibe the chili pepper-infused tequila drink with a cumin salt rim—like an amped up margarita on the rocks—alongside some Island boar mulitas and black beans. I took my ample leftovers boxed up to go.
All too soon it was time for dessert. And, unlike the other courses, the food was chosen first and the cocktail mixed to match: A French tarte de pommes with a Hawaii twist—fried pineapple topped with a round scoop of perfectly creamy goat cheese gelato. The whiskey-based "Hana Hou" cocktail with amaretto and a macadamia nut salt rim, completed the evening.
The event proved to be one of the most unusual culinary events I'd ever attended. The diversity of ingredients in the food—from finger limes with their caviar-like citrus beads to pickled Filipino garden chilies to dragon fruit, lychee and locally sourced wild boar—was impressive and the equally inventive drink pairings made for an action-packed evening. I felt like I'd just whiplashed through a flavor world tour from my seaside seat. Spirited, indeed.
If you happen to be on Hawaii Island in the coming months, look for the next "Dare to Pair Spirited Dinner" on the hotel's event calendar.
---
The Hapuna Beach Prince Hotel • 62-100 Kauna'oa Drive, Kohala Coast. Call (808) 880-1111 for reservations and more information. HapunaBeachPrinceHotel.com/Events.