Ed Lyman: 5 things I love about humpback whale season in Hawaii
As Hawaii's Large Whale Entanglement Response Coordinator, Lyman has rescued dozens of the migrating mammals.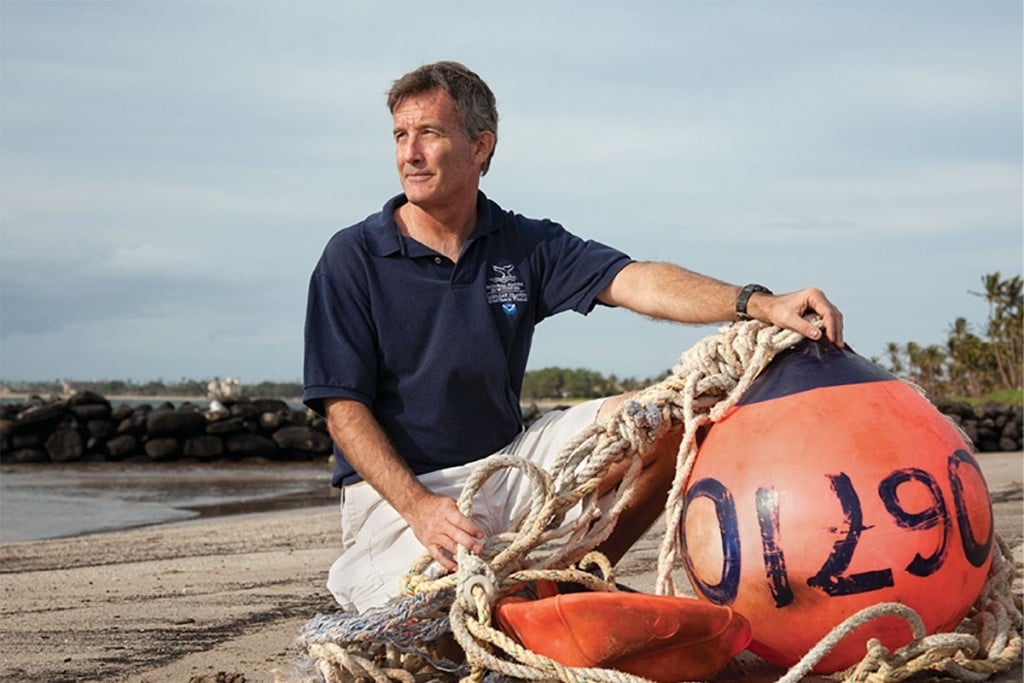 Between freeing whales tangled in ocean debris, such as twine and nets, and investigating what causes the massive mammals to be entangled in them, Ed Lyman, the Large Whale Entanglement Response Coordinator for the Hawaiian Islands Humpback Whale National Marine Sanctuary, has his hands full year-round, literally. His busiest season of the year, however, is in full swing.
During Hawaii's annual November to April humpback whale season, Lyman must be ready to hop on a rescue boat or plane at a moment's notice to make sure the more than 12,000 whales migrating to Hawaii's warm winter waters from the North Pacific to mate, birth and nurse their calves are safe and sound.
"You're always on standby and that does have a cost," says Lyman, who's on call seven days a week and on holidays. "You're always wondering every time the phone rings." Rescues have interrupted a Thanksgiving dinner and a Christmas morning, but Lyman says the end result makes such sacrifices worth it.
"At the end of that there's the [feeling of], 'Wow! I just freed a 40-ton animal!'" he says.
Lyman has freed about 70 whales in Hawaiian and mainland waters since 1994. Every rescue on the open ocean—where the combination of waves, multiple rescue boats and an injured whale demand constant attention—involves risk. Lyman repeatedly acknowledges the U.S. Coast Guard, other agencies and his own employer, the National Oceanic and Atmospheric Administration, for working together—often for hours on end—to cut entangling debris from the humpbacks.
"When you make that last cut and the whale swims off, it might have taken the whole day," says Lyman. "But now that whale has a chance of surviving!"
1. ACROBATICS:
"Humpback whales are the acrobats of the whale world. They are magnificent animals. Seeing a 40-ton animal throw its mass out of the water is amazing. I've seen hundreds of breaches, but my jaw still drops."

2. ENERGY:
"Whales bring energy. It's the breaching and other surface-active behaviors. It's what's happening underwater, too. If you went down a couple of feet underwater, you would hear the male humpback whales singing. You can hear it miles away. It's so strong it feels like your body is quivering with the sound pulses."

3. SEASONALITY:
"Many say that, unlike the Mainland, Hawaii doesn't have seasons. Whales give us a season. The clear, shallow, protected waters of Hawaii provide the perfect place for humpbacks to mate, calve and nurse each winter. Hawaii is home to the largest seasonal population of humpbacks anywhere in the world. Viewing whales from our shorelines is truly a unique, seasonal experience."

4. DYNAMIC DESIGN:
"A unique thing about humpback whales is their flippers. They're different from all other whales because of it. The flippers are 12- to 15-feet long and a third of the length of their body. No other whales have flippers like that. They also have bumps on their flippers and head called tubercles that actually channel and increase the flow of water between them, making the humpback whale more maneuverable."

5. COMMUNITY:
"People are the foundation of our response efforts. It's tour boat operators, fishermen, the Coast Guard, other agencies and ocean users that help us monitor and respond to animals in distress. The sanctuary (staff) is not always out there patrolling the waters. We count on various ocean users to be our eyes. Folks here are always willing to help, and we appreciate it."