Elvis Presley's "Aloha from Hawaii" screening to re-create concert excitement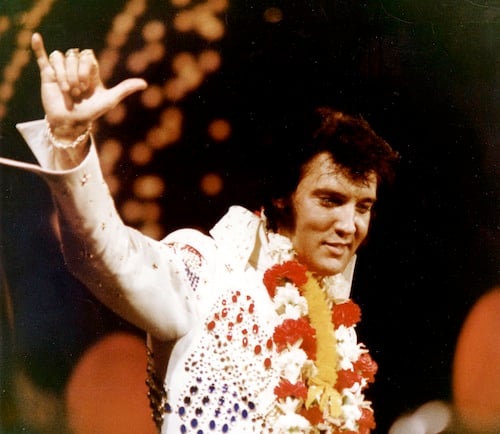 Memphis-based Elvis Presley Enterprises Inc. this week announced that tickets will go on sale on Friday (Nov. 2) for the Elvis Presley Aloha from Hawaii 40th Anniversary Screening.
According to a news release issued by the Elvis Presley Enterprises: "This experience will feature incredible re-mastered video projected on multiple screens with audio presented in Dolby 5.1 surround sound. The original performance has been edited to re-create the excitement of being there in-person 40 years ago and will include special footage filmed exclusively for this event."

On Jan. 14, 1973, Presley's Aloha from Hawaii concert was beamed live via satellite and seen in over 40 countries by close to 1.5 billion people. Held at Honolulu International Center (now Neal Blaisdell Center), the concert is regarded as the most-watched broadcast by an individual entertainer in television history.

The concert served as a fundraiser for the Kui Lee Cancer Fund. Lee, a Hawaii composer and entertainer who died of throat cancer in 1966, composed of the song "I'll Remember You." Aloha From Hawaii featured that song along with several older hits and tunes from the 1960s and '70s. The lineup ranged from "Blue Suede Shoes" to "Can't Help Falling in Love" and the Beatles' "Something."
The anniversary screening is slated for 7:30 p.m. on Mon., Jan. 14, 2013 at Blaisdell Center. All tickets are $35. To purchase tickets online, click here.
Earlier this year, Elvis Presley Enterprises announced a vacation package and other Elvis-related to events in Honolulu tied to the Aloha From Hawaii anniversary. For additional information about the anniversary celebration, click here.