Endangered Hawaiian monk seal given stronger protection under new Hawaii law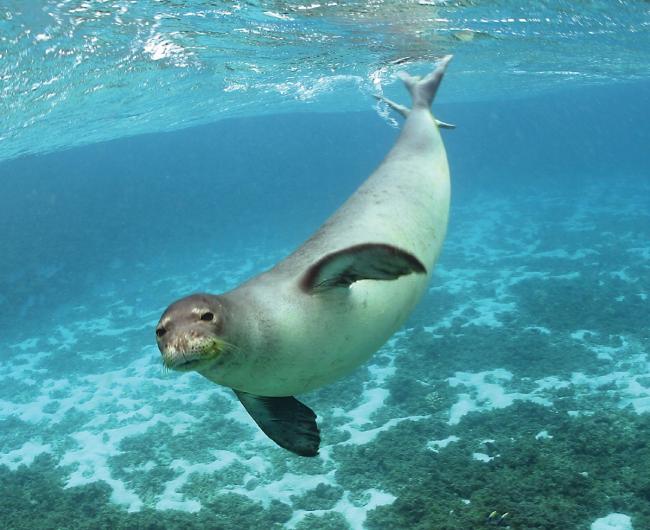 A bill seeking tougher penalties for anyone caught intentionally harming the Hawaiian monk seal, or other endangered Hawaii species, became state law this week.
Hawaii Lt. Gov. James "Duke" Aiona signed Senate Bill 2441 into law, making the intentional harassing, harming or killing of a monk seal—or any endangered or threatened Hawaii species—a class C felony. The new Hawaii law extends punishment already imposed by violations of the federal Endangered Species Act, to include a fine of up to $50,000 and five years in prison.
"Despite the protections provided by the federal Endangered Species Act, these animals continue to be at risk," said Aiona, in a media release. "Hawaii is home to more than 300 endangered species and we all have an enormous responsibility to help protect our unique wildlife."
Though the new law covers all Hawaii animals protected by the Endangered Species Act, stronger protection of the endemic Hawaiian monk seal was the primary goal of lawmakers who drafted the bill.
Last year, a Kauai resident intentionally shot and killed a pregnant monk seal that was sunning on a beach where he wanted to go fishing. Though the maximum penalty under the Federal Endangered Species Act law specifies fines of up to $50,000 and a year in prison, the man—who pled guilty—was sentenced to 90 days in federal lock-up and a $25 fine.
An autopsy of an adult monk seal found dead in the offshore waters of Molokai by a fisherman last December also determined that the animal had been intentionally killed. The death is still under investigation.
With only 1,100 Hawaiian monk seals estimated still living in the wild—mostly in the remote northwestern Hawaiian Islands—the native species is among the most endangered in the world. Biologists predict that with the current population of monk seals declining at an annual rate of 4 percent—primarily due to low birth rates—seal numbers could dip below 1,000 within the next three to four years.
The Hawaiian monk seal was declared Hawaii's official state mammal in June 2008, a designation government officials hoped would raise international awareness about the native Hawaii marine mammal's plight. Only 80 to 100 monk seals are believed to reside in waters surrounding the main Hawaiian Islands, where the animals are beloved by Hawaii residents and visitors alike.
Monk seals are so enamored in Hawaii that even the semi-regular occasion of one waddling up on a popular beach to rest or sun itself draws throngs of gawkers, and makes evening TV news broadcasts. When one does turn up on a populated beach, volunteer Hawaiian monk seal response teams immediately swing into action—cordoning off the immediate area surrounding the animal and keeping watch until it decides to shuffle back into the ocean.
For more information on what you should do if you find an unprotected monk seal on a Hawaii beach, or witness someone harming a monk seal, click here.