Enjoy an Ocean-to-Table Feast at The Pint & Cork on Maui
From authentic poke bowls to entrees featuring local ingredients, this gastropub offers a range of Island-inspired dishes.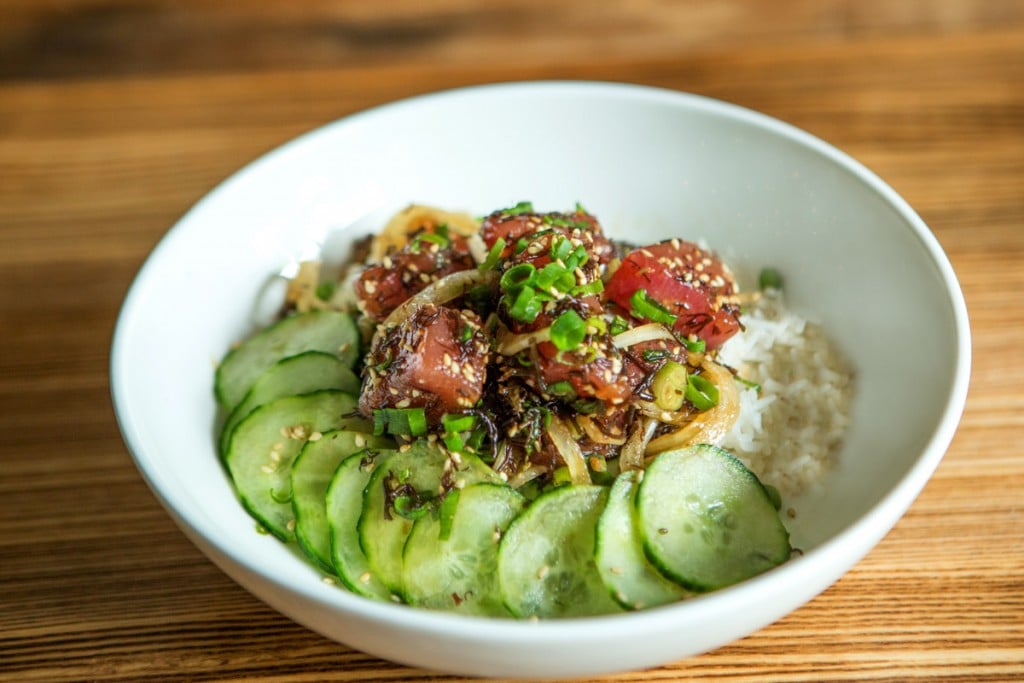 Looking for a dining experience as distinctive and enjoyable as a visit to the luxury wing at The Shops at Wailea? Reserve your next table or pull up a chair at the 24-seat bar inside The Pint & Cork to experience some of Maui's freshest seafood prepared in a variety of delectable dishes.
"We're a gastro sports pub, but our culinary menu offers entrées that are closer in taste and refinement to a fine-dining meal," says managing partner Scott Pacer. "Whether you're looking for locally sourced produce or protein, an innovative take on familiar local meals such as loco moco, or entirely new flavors, our chefs have prepared some impressive selections."
For Hawaii-raised ingredients, look no further than the starters: the warm mushroom salad ($16) assembled with baby greens, locally grown mushrooms, garlic, lemon and truffle oil; or an authentic poke bowl made with ahi (bigeye tuna) prepared simply with fresh onion, sesame, soy, sliced tomatoes, Japanese furikake, crushed roasted kukui nuts and sea salt, served on jasmine rice. Fresh shrimp, prepared Buffalo-style, with cayenne pepper hot sauce and melted butter, is also available for $8 as an add-on to the restaurant's crisp iceberg wedge salad ($14), served traditionally with cherry wood-smoked bacon, hard-boiled eggs, grape tomatoes, and a house-made blue cheese dressing.
Locally caught ahi or lobster can be added to any salad for $12, as well as to entrées such as The Pint & Cork's Hong Kong-inspired noodles, made with lean pork belly, stir-fried vegetables and Canton noodles. (Noodles can also be prepared vegetarian, with a soy-ginger sauce instead of the traditional Hong Kong jus.) Other seafood entrées include a Thai-inspired coconut red curry ($32), simmered with shrimp, scallops, mussels, stir-fried vegetables and served over jasmine rice, as well as ahi plated with seared wasabi aioli and grilled pineapple salsa on a toasted sourdough roll.
"We offer pupu (appetizers) for smaller appetites or those looking to snack perhaps while enjoying a drink at the bar, or larger dishes and shared plates for lunch and dinner or groups," Pacer says. "If you're in the middle, a popular choice is our lobster mac 'n' cheese or our Imperial crab melt, which has lump and claw crab meat, a blend of three cheeses, and served open-faced on a baguette."
Hungry for some turf with your surf? Don't miss The Pint & Cork's short rib grilled cheese sandwich ($21), made with smoked cheddar, beef ribs braised in Maui Brewing Co.'s coconut porter and agrodolce onions, served on an open-faced English muffin. Traditionalists can also enjoy a 16-ounce rib-eye ($41) prepared in a whiskey and grain mustard marinade with fresh herbs and garlic and served with butter-whipped potatoes, sautéed broccoli and a red wine gravy.
"Many of our guests will stop in for a refreshing beer or house cocktail, but our food menu is equally excellent," says Pacer. "We invite you to discover these delicious dishes."
For reservations, to see the menu or to find out more, visit thepintandcork.com.