Entertainer and cultural leader Winona Beamer dies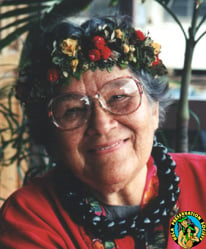 Hawaii has lost not just a legendary entertainer, but a respected cultural figure. A well-known Hawaiian music family has lost its much-loved matriarch.
Winona Beamer passed away in her sleep this morning at her home on Maui, after a long illness. She was 84.
Her sons are musicians Keola and Kapono Beamer—as a duo, best known for their 1970s hit "Honolulu City Lights."
Born Winona Kapuailohiamanonokalani Desha—but affectionately known to most simply as "Auntie Nona"—Beamer made countless lasting contributions to Hawaiian culture.
Born in Honolulu in 1923, Beamer began learning hula at age 3 from her Big Island grandmother. She would later become a respected kumu hula (hula teacher)—and a leader in restoring hula's traditional cultural roots.
An educator for four decades at Kamehameha Schools, Beamer coined the term "Hawaiiana" in 1948 to define the Hawaiian culture courses she introduced into the school's curriculum.
When school trustees threatened to curtail the curriculum in 1997, Beamer issued a protest letter to the state Supreme Court, condemning their actions and mismanagement. The letter sparked public debate over the actions of the powerful court-appointed trustees (who were also in charge of Kamehameha Schools' lucrative land trust then known as Bishop Estate). The public uproar would end with the trustees' removal and an era of monumental reform at the school.
Most folks, however, knew Auntie Nona best for her many contributions to culture and the arts.
Beamer was a composer of songs—most famously, "Pupu Hinuhinu" (Hawaiian meaning "shiny shells"), which is still sung by schoolchildren. She was also a storyteller and prolific author, with more than a dozen books, tapes and CDs to her credit.
Beamer was inducted into the Hawaiian Music Hall of Fame in 1974, and presented with a lifetime achievement award by her peers at the 1992 Na Hoku Hanohano Awards—the Hawaiian music equivalent of the Grammys.
Our condolences go out to the Beamer ohana.