Epic Origami exhibit opens on Hawaii Island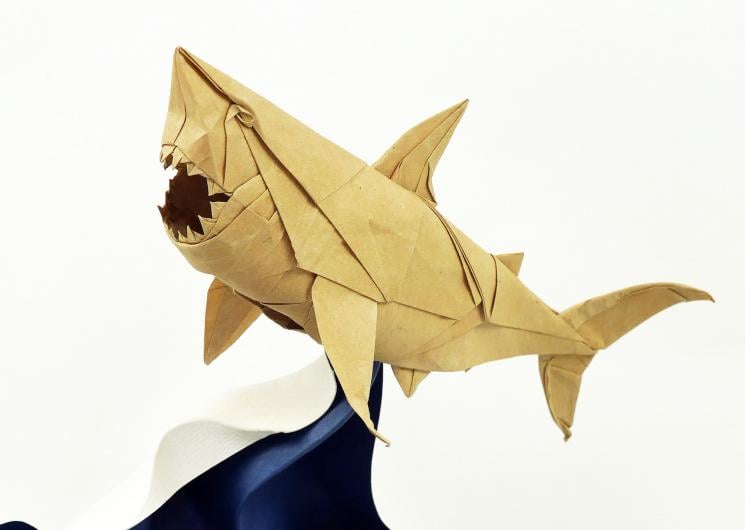 It takes around 15 carefully executed folding steps to create a tiny, palm-sized Japanese origami crane—no small feat. If you're on Hawaii Island this summer, be prepared to be wowed by the impressive origami pieces in the new Epic Origami exhibit at the Imiloa Astronomy Center. There, each piece took around 100 folding steps and some are three feet tall.
The installation, celebrating the art of origami—the traditional Japanese paper craft meaning "folded paper"—opened Sun., July 5 and will run through Sun., Sept. 27.
"It's larger-than-life origami the average person hasn't seen on a complex scale and it's fun to see," said Bonnie Cherni, a Hawaii Island resident and the lead artist for the Epic Origami exhibit.
After receiving a John Montroll origami book at the age of 15, Cherni practiced folding with newspapers. It's been 25 years and she continues to fold, only this time with canvas, copper mesh and paper on aluminum. Cherni's work has been shown in venues around Hawaii Island including Waimea Ocean Film Festival, Donkey Mill Art Center and Kahilu Theatre, among others.
The installation also features the work of guest Hawaii artists Steven Epstein and Shannon Nakaya, as well as Nguyen Hung Cuong from Vietnam and Nicolas Terry from France.
From penguins to three-headed dragons, all the origami in the exhibit (with the exception of a few noticeable pieces) are created with a single square sheet of material, using designs that utilize the geometry of breaking down a square.
Visitors can participate in the scavenger hunt and watch the film "Between The Folds" screened daily in the planetarium. The exhibit will also introduce never-before-seen pieces from Cherni. She understands there is a unique origami culture in Hawaii and several Hawaiian animals are part of the exhibit: wild boar, Hawaiian hoary bat, Great White Shark, honu (turtle), black crows and Hawaiian hawk. A folding room filled with origami patterns and a video will be open as well for visitors to try folding.
Cherni will also be holding two workshops on July 11 and Sept. 19 from 10 a.m. to 11:30 a.m., where she will teach people of all skill levels to fold origami (non-members $35, members $24).
Whether you're new to origami or want to learn more about it, Cherni invites you "to walk around, see the movie, discover the science behind the origami sculptures, and try folding yourself."