Experience a Firsthand Account of Driving Maui's Road to Hana
A newcomer to Hana finds the road to be a relaxing drive.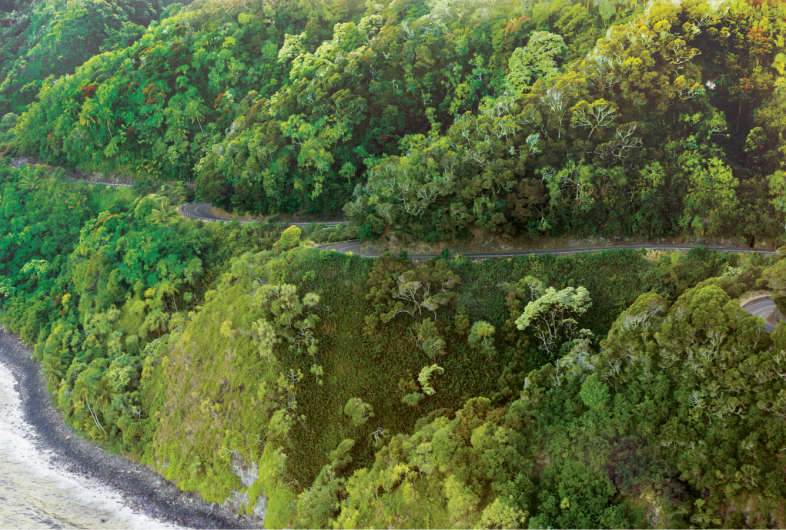 I've heard the stories: whispered tales of blind turns, perilous cliffs and precarious one-lane roads, all told to me by unlucky souls who've had to experience this treacherous stretch of gravel firsthand. So as I take the wheel on the Road to Hana, prepping to drive it for the first time in my life, I attempt to quell my building anxiety by fiddling with the air conditioning, taking feverish sips at my coffee and cracking jokes to my companions.
To my surprise, driving the curvy East Maui road to the pleasant countryside of Hana isn't as bad as everyone says. Lush vegetation fills my vision and I feel like an adventurer exploring parts unknown. For a while, a rusty pickup truck follows behind us and I'm worried I might be going too slow, but when I pull over on a bridge overgrown with vines to stare slack-jawed at a cascading waterfall, the truck pushes forward, leaving only a hanging shaka out the window.
The twists and turns may make your palms sweat, however after a few of these maneuvers, I'm already confident that I won't hurl our rental Jeep off some perilous ledge. In fact, hitting the turns just right and maneuvering my way in and out of one-lane nightmare roads is kind of fun. With one hand on the wheel now—a sign of true automotive confidence and swagger—I'm excited to see what's next.
On a rare straightaway, my friends are oohing and ahhing and I turn my head to see a cliffside view of Maui's northern coastline filling my window. But I see it only for a passing moment. Eyes flicking back toward the road, I spot another long turn ahead, with one lane and poor visibility. Just how I like it.