Experience the Wonders Beneath Hawaii's Waves with Atlantis Submarines
Atlantis Submarine's underwater ocean adventures are focused on surf, sea and sustainability.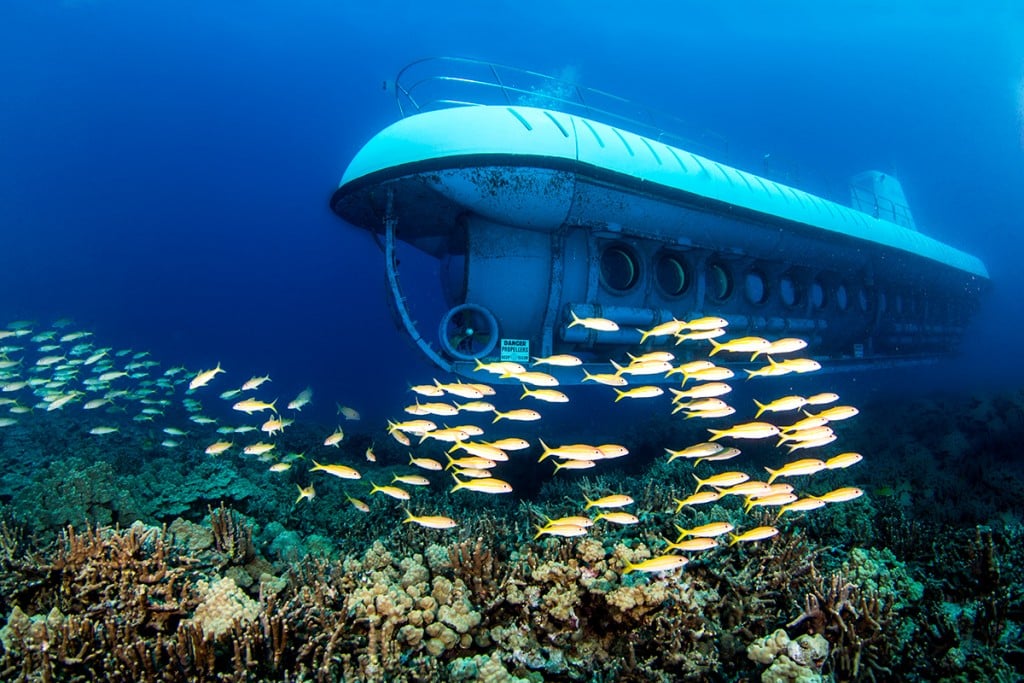 Beyond Hawaii's swaying palm trees, the majestic, lush mountains, the tropical sunsets and the serene, sandy beaches, an exotic, exhilarating world exists. We're talking about traversing below the surface of Oahu, Maui and Kona's famous, sapphire-blue waters to discover the vibrant undersea environment that's just hidden from these tropical streets. Here roam a cast of aquatic island icons: languid green sea turtles and fierce sharks, mesmerizing eels and charming yellow tangs. Here, too, lie the ruins of enigmatic seawrecks, from sunken ships of yore to crashed airliners, now slowly decaying and becoming one with the animals and plants that call this watery landscape home.
It's all part of the experiences that happens at Atlantis Submarines, which has been launching dive adventures off the coast of balmy Waikiki since 1989. Fast forward to today and they've expanded to two more islands, giving guests even more to explore. And, at 100 feet below the surface, this is an expedition that's more than just off the beaten path – passengers are welcomed aboard the world's most technologically advanced submarine for a glimpse into a thrillingly different and wildly colorful universe.
The 48-person ships vessels are the epitome of comfort as well, equipped with air-conditioned cabins, and plenty of leg and headroom, to keep amateur Jacques Cousteaus in tip-top shape for spotting the next snap-worthy marine creature. Each seat gets its own large viewing portal too, ensuring that no fish, shark or turtle goes overlooked. For an even more luxurious trip, Waikikian explorers can opt to hop aboard the premium submarine, which is big enough to hold 16 more people than the standard vessel, while still offering more space for each passenger. (Psst: Those passengers also get supersized viewing windows, all the better for scoping out the sights.)
In other words? We're talking the best, most cutting-edge way to journey to the ocean floor. But, Atlantis Submarines also knows that being the best comes with a responsibility, especially when it comes to as precious a resource as our oceans. That's why they made it one of their top priorities to be a good steward of that resource, from the beginning. That means quiet, battery-powered vessels charged during off-peak times, which won't disturb the wildlife, that cut the company's carbon footprint down by what they estimate is half, and which emit absolutely no pollutants into the waters. It also means taking the initiative to make a difference, like how Atlantis Submarines has been revitalizing dive sites on Maui and Oahu by installing artificial reefs since the company's inception. Today, the once-barren and empty areas around those sites are now thriving habitats, with a renewed population of wildlife and fish.
We'll never get tired of discovering the endless mysteries the ocean has to offer – and now we can rest easy knowing that our ticket down there is making sure they do their part to make sure we're able to keep discovering it for a long, long time.
Ready to join them?
For more information, visit atlantisadventures.com.