Experience West Maui's Beautiful Landscape on the Royal Kaanapali Course
The stunning Royal Kaanapali Course teaches a novice that golfing is more than just swinging and putting.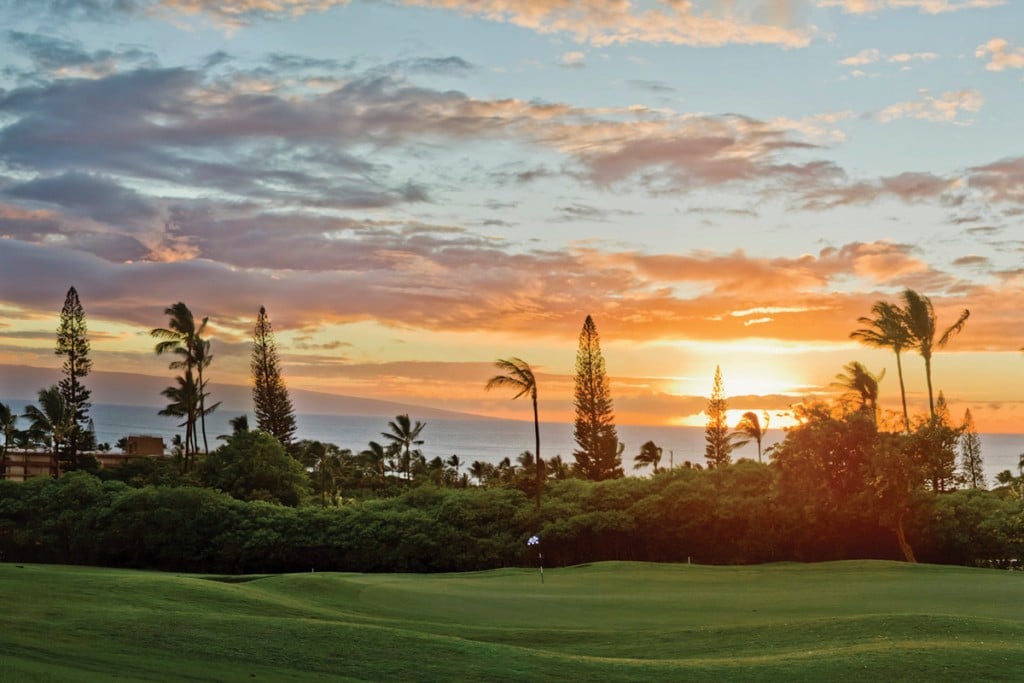 Slicing hard into a patch of green, manicured grass, the head of my golf club makes contact with the tiny ball and I watch it soar into the sky.
Angling to the right, I will the flying object to shift left, but reality is cruel. I watch as the tiny white speck careens into a group of trees and rough foliage, yards away from where I'd intended it to go. "You've got to close your swing earlier," says Nick Ruiz, a golf assistant at the Royal Kaanapali Course and my coach for the day. He's wearing a fitted polo, khaki shorts and athletic shoes—and I feel slightly embarrassed showing up in slippers and an aloha shirt, but Ruiz's easygoing demeanor placates my anxiety.
It's early in the morning, with the Maui sun just rising above the horizon, and I'm standing at the first tee of the Royal Kaanapali Course, a par-71 championship golf course located on the West Maui foothills, playing 18 holes of golf for the first time in my life. Ruiz, a golf professional, takes his shot, expertly driving the ball down the fairway. Another golfer in our three-man group takes his swing and hits it far downrange; however, the ball falters, shifts far to the left and careens into the rough. Getting into our golf carts, we head toward my ball, and the refreshing Maui winds cool me down as we gain speed.
With my golfing ability at near nil, I was intimidated by the idea of golfing at a course that doesn't have miniature windmills. And although the holes here are full of challenges, with sand traps and water hazards scattered about the course, Ruiz offers a fun alternative to a normal round of golf. Instead of each player playing from where their balls land, which is how golf is usually played, we instead hit from where the best shot lands, ensuring we move along at a good pace. After we all converge at Ruiz's ball, just over 200 yards away, we take our swings again, chipping ever-closer to the hole.
We fall into a rhythm of swinging, driving, waiting for the golfers ahead to take their swings, and doing it all over again. Before I know it, we're about halfway through the course, at the 9th hole, and I take a moment to check the view. The route of the Royal Kaanapali Course takes us up manicured hills—a smart decision by the course's designer, famed golf course architect Robert Trent Jones, who opened the course in 1962—and now I'm able to see much of the neighboring resort area. Off the coast surrounding the hotels and resorts, Lanai and Molokai loom in the distance, and the sky, which has turned bluer and more picturesque as the day progresses, frames the scene perfectly.
Focusing back on the game, Ruiz readies his shot and actually ends up making a mistake, sending his ball far off into the rough. I follow up and, channeling my inner Tiger Woods, hit my ball with a resounding tink. It's my best shot of the day, and my group collectively watches it sail true, staying on course and making good distance. It shouldn't mean much, but hitting that ball just right makes my day. Ruiz claps me on the back, and we go to gather their shots. We're playing from my ball this time.
By the time we're winding down to the 16th hole, I'm exhausted. Playing 18 holes of golf is both mentally and physically taxing, and though we've been in the sun for five hours now, I'm still having a good time. Chatting with Ruiz as we wait for golfers ahead to clear out, we talk about each other's pasts, connecting on a few hobbies and topics. It's fun, and I can already imagine myself golfing with my friends back home just as an excuse to catch up with them. "Good company is what's really important in a round of golf," Ruiz tells me, as we make our way to the last hole.
Hole 18 is as hard as it gets. It's short, 449 yards, but I've got to fly my ball over a body of water before reaching the fairway. Setting up my shot, remembering everything Ruiz has told me throughout the day, I bring my club down and immediately chunk it, hitting the ground before the ball. My last golf ball makes a beeline for the water, and all I hear is a plop as it sinks to the bottom of the lake. I should be disappointed, but I'm not. As it turns out, golfing, whether you're making the best shot of the day, missing a putt for par or just talking with friends, is fun from the first tee to the last putt.
Royal Kaanapali Course
Kaanapali Resort guests can play the course for $179, nonguests for $225. More information can be found at kaanapaligolfcourses.com or call (866) 454-4653.